New issue of the Corporate Board: Role, Duties and Composition journal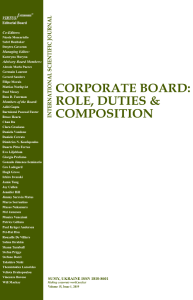 We are pleased to present the second issue of the journal "Corporate Board: Role, Duties and Composition" in 2019. It is devoted to the issues of board structure, internal audit, mergers & acquisitions, board committees, firm performance etc.
Alkiviadis Karagiorgos, Stamatis Stamatis, Paschalia Plioska and Olga Koutri investigate the extent to which a number of factors such as organization, human resources, legislation, cooperation and the use of information systems influence the effectiveness of local authorities' revenue attestation, making particular reference to the important role that internal and external audit can play in the process.
Ahmad Alqatan, Imad Chbib and Khaled Hussainey examine whether or not the structure of the board of directors and, in particular, board size, independence and remuneration have an impact on firm performance.
Hugh Grove and Mac Clouse explore the implications for both financial and corporate governance performances from the emergence of activist investors.
Michail Pazarskis, George Drogalas, Alkiviadis Karagiorgos and Efthalia Tabouratzi examine the impact of thirteen mergers and acquisitions in the Greek banking sector which took place during the period of economic crisis: 2008-2014.
Andreas Koutoupis, Michail Pazarskis, Grigorios Lazos and Ioannis Ploumpis analyse the relationship between the role of Internal Audit (IA), Corporate Governance (CG) and the Audit Committee (AC) in the recent financial crisis in Greece and investigate the contribution of IA to CG structures as well as its possible, the IA's role during the financial crisis in Greece.
Udo Braendle and Alexander Kostyuk outline the structure of the book titled "Challenges and Opportunities in Italian Corporate Governance", which was written by Salvatore Esposito De Falco, Federico Alvino, Nicola Cucari, Luigi Lepore (Virtus Interpress, 2019), pay attention to its strong sides and issues that will be, by the reviewers' point of view, most interesting for the reader.
To browse the issue visit this page.