New issue of the Corporate Board: Role, Duties and Composition journal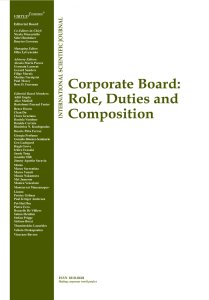 The editorial team of Virtus Interpress is delighted to publish a new issue of the journal Corporate Board: Role, Duties and Composition (volume 17, issue 2). This new issue of the journal presents contributions of authors from Australia, Italy, the Netherlands, the USA, China, and Egypt.
The articles published in this issue, investigate, among others, the issues of corporate governance, board of directors practice, board governance, board structures, board decision-making, board responsibilities, operating models, IT governance, digital transformation, ethical leadership, in-role work behaviors, organizational cynicism, audit committee, information technology and innovation committee, etc.
The full issue of the journal is available at the following link.
In the first paper of the issue, Mohamed Ahmed Ali Nemr and Yuhuan Liu, using a stratified random sample consisting of 400 faculty members working at Egypt's Sohag University, aim to test ethical leadership's impact on in-role work behaviors and to test the moderating role of organizational cynicism between them.
Dean Blomson approaches to explore whether the dominant style of board model used in Australia was reaching its use-by-date and if so, what more future-ready model/s or features could be considered. The focus of the study was on board operating models of the future — 2030 and beyond.
Le Chen and Pietro Pavone seek to investigate the origin of IT governance and analyze the impact of IT governance wisdom on board decision-making from the perspective of the philosophical thinking of The Art of War.
Erik Beulen and Ries Bode in their study apply design science to develop an information technology and innovation committee as an integral part of corporate governance for organisations that are engaging in digital transformations.
Finally, Hugh Grove and Maclyn Clouse try to identify the challenges for boards of directors concerning their responsibilities to assess and track their companies' commitments to zero net emissions goals and performances.
The papers in this issue use a wide range of methodologies and provide insightful findings that may trigger future research in various corporate governance challenging issues, providing a solid contribution to the previous literature and are recommended for researchers and readers looking for the latest trends in the field. We hope you will enjoy reading this issue of the journal!