New issue of the Corporate Board journal has been published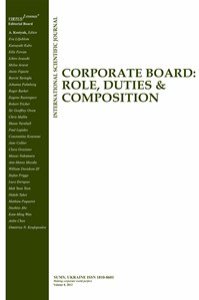 Dear readers, we are delighted to announce that next issue of the Corporate Board: Role, Duties and Composition has been published.
The recent issue of the journal Corporate Board: Role, Duties and Composition is devoted to the issues of corporate board practices and pays attention to problems of board characteristics, Corporate Social Responsibility, agency conflict, effective tax, community engagement, etc.
More detailed issues are given below:
Kgaugelo Sammy Boya investigates how the Gauteng football clubs that are affiliated with the South African Football Association (SAFA) perceive issues of governance and those that concern social responsibility. Qualitative data in a form of semi-structured interviews was used. A total of 12 executive managers participated in the study. Atlas ti was used to analyse data deductively. The findings seem to suggest that the clubs are aware and supportive of good governance principles, ethics and issues of social responsibility. Calls are made to SAFA and its structures, government and the corporate sector to instil good governance principles and support social initiatives within their surroundings. Moreover, families and communities were encouraged to raise the bar in terms of improving the moral capital of society.
Mohammad Ahid Ghabayen, Nor Raihan Mohamad and Norsia Ahmad aims to examine the impact of board characteristics on the level of corporate social responsibility disclosure (CSRD) in the Jordanian banking sector for a sample of 147 banks/years during a period of 10 years (2004-2013). A checklist consisting of 100 items is developed to measure the disclosure level and the result indicates a relatively low level of disclosure in Jordanian banks. Multiple regression analysis is employed to examine the developed hypotheses. The results indicated that the larger board size and higher level of disclosure are correlated. However, low level of disclosure is associated to higher proportion of independent directors and institutional directors. In addition, female director is found to negatively affect the level of disclosure. This study has filled some of the previous studies' gaps; the study is conducted in a new business environment. Besides, previous CSRD's studies have not considered some of the board characteristics such as institutional directors. Thus this study investigates their impacts on the level of CSRD. In addition, this study provides some guidelines for the future works. Furthermore, the findings of this study might be interested to several groups of shareholders and stakeholders such as government, regulators, potential investors and CSR agencies.
Francesca Gennari focuses on the EU countries, where the gender equality on board is currently matter of attention and regulatory interventions. The author conclude that the scarce presence of women in the boardrooms is not ascribable to a scarcity of expertise, but it is associated with a social background and a corporate culture not inspired by corporate global responsibility values. Regulatory interventions may accelerate the consciousness of gender balance on boards, but without companies' commitment in CSR matters and without a clear vision of corporate global responsibility (including economic, social and environmental aspects), they tend to become additional tasks in the management of corporate compliance risk.
Sun Jianfu and Yudha Aryo Sudibyo examine the variability on effective tax rates through the considering of agency conflict between minority and controlling shareholders in state owned firms. In China, state ownership helps the government to achieve its social objectives by optimizing corporate income tax. The authors provide a significant result to prove that state owned firms paid higher corporate income taxes than private firms. The results also indicate that corporate effective tax rates are positively associated with firm sized and inventory intensity. However, authors have no strong evidence to support the association with leverage, return on assets and capital intensity.
To access the paper please use this link.