New issue of the Corporate & Business Strategy Review journal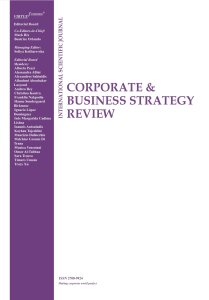 The editorial team of Virtus Interpress is happy to publish the second issue of the journal Corporate & Business Strategy Review in 2023 (volume 4, issue 2).
The papers within this issue investigate a wide range of corporate governance and business strategies issues, such as inflation, interest rate, exchange rate, commercial bank performance, initial coin offerings, financial instruments, cryptocurrency, fundraising, investments, behavioral finance, investor psychological bias, Ponzi investment scheme, volatility, banking, firm value, stock returns, return on assets, capital structure, debt, equity, financial leverage, accounting quality, trade credit, profit sustainability, profit predictability, earnings management, information and communication technology, Internet of Things, smart city, green human capital, sustainable development, international trade freedom, economic growth, labor market, unemployment, motivational compensation, employee commitment, employee engagement, organizational empowerment, organizational performance, etc.
The full issue of the journal is available at the following link .
In the first paper, Bashar Abu Khalaf investigates the impact of six behavioral finance biases and their impact on Jordanian investors' financial decisions in the Amman Stock Exchange.
Flora Merko and Mateus Habili measure the impact of interest rates, exchange rates, and inflation on the performance of commercial banks in Albania.
Kris Jangjarat, Tanpat Kraiwanit, Theerawat Thanawiwat, and Veraphong Chutipat study the factors affecting the acceptance of initial coin offerings for investment and try to find out whether cognition in ICOs investment affects decision-making in investment in Thailand.
David Umoru, Solomon Edem Effiong, Salisu Shehu Umar, Enyinna Okpara, Danjuma Iyaji, Gbenga Oyegun, Davidson Iyayi, and Benjamin Olusola Abere focus on exchange rate volatility, or a continuous fluctuation in the currency rate, in the emerging market.
Partiwi Dwi Astuti, Luh Kade Datrini, and Anis Chariri examine the relationship between green intellectual capital, green human capital, green relational capital, green structural capital, with each dimension of corporate sustainable development.
Muhammad Takiyuddin Abdul Ghani, Bahyah Abdul Halim, Syamsul Azri Abdul Rahman, Nor Akmar Abdullah, Asyraf Afthanorhan, and Nurwahida Yaakub explore the prevalence of overconfidence bias in the decision-making process of Malaysian investors in Ponzi schemes.
Egzona Hasani and Besim Beqaj analyze the development of new products in the most profitable sector of the Kosovar economy — the banking sector.
Chuleerat Charoenporn, Papon Moolngearn, Kris Jangjarat, Tanpat Kraiwanit, and Rattaphong Sonsuphap assess the strengths and shortcomings of Pathum Thani's efforts to become a smart city and rate the importance of each application domain for smart cities.
Parashqevi Draçi and Albana Demi describe the support and participation of the residents in Albania in the planning and development process of tourism as a key element for the sustainable management of tourism resources.
Shaqir Rexhepi and Gjelosh Vataj deal with the level of influence of the labor force on the labor market in the countries of the Western Balkans.
Indupurnahayu, Dedi Walujadi, Shanti Lysandra, Hurriyaturrohman, and Endri Endri estimate the impact of stock returns, return on assets, leverage, and company's total assets on firm value proxied by price-to-book value.
Kaltrina Bajraktari, Roberta Bajrami, and Medain Hashani search for the effects of international trade freedom on the Western Balkan countries' economic growth using the Fraser Institute annual data from 2000 to 2021.
Damaro Olusoji Arubayi and Vincent I. O. Odiri evaluate the mediating effects of employee commitment in the relationship between high-performance work practices and employee engagement in Nigeria.
Haitham M. Alzoubi, Kakul Agha, Muhammad Turki Alshurideh, Taher M. Ghazal, and Khaled M. K. Alhyasat approach to identify the impact of organizational empowerment practices and learning organization on organizational performance of Abu Dhabi National Oil Company in the UAE.
Zaid Al-Hawatmah and Osama Samih Shaban research the impact of financial leverage on a company's capital structure, focusing on 54 Jordanian industrial companies listed on the Amman Stock Exchange market for the year 2021.
Leqaa Taha Mouhmmd, Mohammed Alwan Rahima, Abdulkareem Mahmood Mohammed, Hussein Falah Hasan, Ali Saad Alwan, and Hussein Kadhim Sharaf discuss how different types of organizations influence the connection between accounting quality and trade credit in Iraqi public companies.
Finally, Nanang Suparman, Abdal, Asep Hidayat, Adang Djatnika Effendi, and Muhammad Andi Septiadi outline the role of the integration of strategic planning for tourism development and air transport connectivity.
We hope that you will enjoy reading this issue of our journal!