New issue of the Corporate Governance and Sustainability Review journal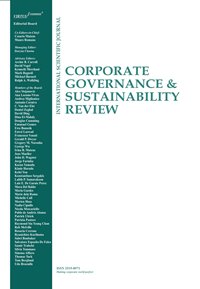 The editorial team of Virtus Interpress is pleased to announce that the fourth issue of 2021 (Volume 5, Issue 4) of the journal "Corporate Governance and Sustainability Review" has been released. The published issue is presented by the papers dealing with different corporate governance and sustainability issues, among such business resilience, COVID-19, Sustainable Development Goals (SDGs), business strategy, corporate governance, board of directors, board characteristics, institutional investors, firm ownership, firm performance, sustainability disclosure, attainment discrepancy, GRI, M&A, takeovers, political connections, earnings management, environmental disclosure, information quality, mandatory reporting, managerial opportunism, etc.
The first paper by Sara Ford, Amr Alfy, Jeffrey Wilson, and Olaf Weber in this issue introduces a conceptual review on business resilience in the sustainable development goals. The authors argue that business resilience represents a useful framework to guide sustainability strategy by mitigating social and environmental risks. In this vein, their findings contribute to the emerging stream of literature on resilience, going ahead on adaptive capacity models that prove incapable to tackle operational disruptions.
In the next paper, Rama Sastry Vinjamury analyses the role of institutional investors (as external monitors) in improving firm performance in emerging economies. Institutional investors are categorized as pressure-sensitive and pressure-insensitive. Drawing from a structural assessment of the past fourteen years of research on corporate governance (CG) variables and firm performance, the findings point out that pressure-insensitive institutional investors are more effective monitors, compared to pressure-sensitive ones. Therefore, the study offers interesting insights into the role of institutional investors in economies where firms have a substantial promoter shareholding, pointing out that even with a substantial promoter shareholding and control; pressure-insensitive institutional investors contribute to enhancing firm value.
Dilini Dissanayake, Sulochana Dissanayake, and Roshan Ajward in their research paper draw attention to the key role governance plays in promoting orientation toward sustainability and implementing accounting reporting tools consistent with stakeholders' expectations. The work is empirically grounded and investigates the relationship between board characteristics and sustainability disclosure with the moderating role of performance gap and resources. The findings contribute to both enriching extant literature and providing managerial implication by strengthening corporate governance mechanisms to enhance sustainability disclosure.
The work of Sheeba Kapil and Sarika Kumar presents a deep analysis of prior literature investigating the impact of specific characteristics of corporate governance on firm performance. This study has the merit to point out existing gaps and fill them addressing attention on the relationship between corporate governance and firm performance in the field of merger and acquisitions (M&A).
The issue ends with the paper by Zouhaira Khelil-Rhouma and Mounira Hamed-Sidhom which aims to study the relationship between firms' accounting earning management practices and the quality of non-financial information disclosed in their annual reports. It contributes to deepening the relationship between firms' accounting earning management practices and the quality of non-financial information disclosed through companies' annual reports. The results of the empirical-based research on earnings management and the quality of non-financial reporting in a regulated context confirm that upward earnings management led to the disclosure of more mandatory environmental information.
The full issue of the journal is available at the following link.
We wish you pleasant and informative reading!