New issue of the Corporate Governance and Sustainability Review journal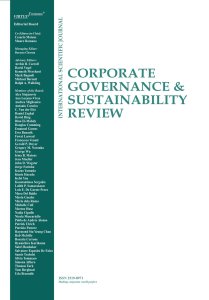 The editorial team of Virtus Interpress is happy to introduce the first issue of the journal "Corporate Governance and Sustainability Review" in 2023. The five papers in this issue deal with different issues, namely, new corporate governance practices, female directors, bank performance, earnings management, corporate finance, investor protection, board characteristics, firm life cycle, corporate performance, sustainability, multi-objective optimization, business impact assessment, multi-actor multi-criteria analysis, stakeholder analysis, CSR, legitimacy theory, etc.
Victor Onuorah Dike and Joseph Kwadwo Tuffour, in the first paper in the issue, examine the moderating impacts of women on board on the nexus between board characteristics and bank performance in Nigeria. The findings of their study reveal that female representation has a significant negative impact on the relationship between audit and remuneration committees and bank performance. Female representation negatively and significantly moderated the relationship between each audit and remuneration committee and bank performance. However, female representation positively and significantly moderated the relationship between nomination committees and bank performance. The findings shed light on the role of the mandatory policy of including women on banks' boards and the female board members' moderating role between the nomination, audit and remuneration committees on one hand and the bank performance on the other.
The study of Showkat Ahmad Busru and Fahad P examines the effectiveness of corporate governance mechanisms in mitigating earnings management practices in listed Indian firms. The findings of their study indicate that governance mechanisms, particularly through ownership and board committee are statistically insignificant in controlling earnings management. Further, the authors explore how board structure, activities, characteristics, and environmental, social, and governance, expressed by ESG disclosures have a significant negative impact on discretionary accruals measured through the modified Jones model.
Ibrahim Nandom Yakubu, Alhassan Bunyaminu, Musah Osumanu Doumbia, and Mohammed Abdul-Fatawu examine the effect of board characteristics and corporate life-cycle on the performance of listed firms in Ghana over the period 2009–2018. Their study utilizes the approach propounded by Dickinson (2011) to cater to proxy measures of firms' life cycle stages. Using the pooled estimated generalized least squares (EGLS), the findings of their study show that tenure has a positive significant effect on performance. The presence of inside directors negatively and significantly influences performance. The results further indicate that at different levels of statistical significance, the various stages of the firm's life cycle have a negative impact on the main dependent variable (ROA). However, only the growth and maturity stages exert a significant effect on performance. They argued that firms should reduce the proportion of executive directors and appoint more non-executive directors to the board to boost performance. Also, firms should endeavour to increase investment in research and development (R&D) at every stage of their production to ensure steady profit growth.
Saeedeh Anvari, Cathy Macharis, and Metin Turkay articulate how sustainable operations are becoming important for companies, after the United Nations 2030 agenda that emerges countries to move toward sustainable development. Taking care of the environment, society, local communities, and related stakeholders are components of sustainable development that are affected by companies' operations. The facility location/demand allocation/route assignment decisions for a company are an operation that has varying economic, environmental, and social outcomes, three pillars, for the company and the related stakeholders. Their study shed a light on decision support framework that considers three pillars simultaneously and incorporates stakeholders' preferences seems necessary in the network design to reach a sustainable network and promote sustainable development. This framework is missing in the literature. They develop a framework that integrates multi-objective mathematical modeling and multi-actor multi-criteria analysis that generates a pool of feasible sustainable solutions based on three pillars. They applied their results to an original case to establish the network for a juice company in Turkey using real data
The study of Sheikh Ali Tanzil investigates the impact of COVID-19 on CSR reporting of listed entities in the South Pacific Stock Exchange (SPX) through a content analysis of annual reports of selected companies listed on the SPX over two years, using a mixed approach of qualitative and quantitative methods, including a case study methodology with archival data and word count analysis. The results of this study reveal how the pandemic has significantly affected CSR reporting, with companies focusing on societal needs related to the crisis rather than traditional CSR activities. This study highlights the need for companies to be more transparent in their CSR reporting, especially during a crisis such as COVID-19, to build trust and confidence with stakeholders.
The full issue of the journal is available at the following link.
We wish you pleasant and informative reading!