New issue of the Corporate Ownership and Control journal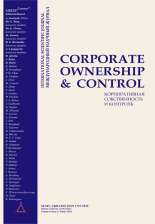 We are pleased to present the autumn issue of the journal in 2018. The recent volume of the journal "Corporate Ownership and Control" is devoted to the issues of national corporate governance codes, executive compensation, reporting quality, ownership structure, disposition effect, behavioral finance, leadership, top management diversity, glass-ceiling, asset pricing models, environmental management, SMEs, family firms, M&A propensity, corporate foundation, earnings management, accrual anomaly etc. More detailed issues are given below.
Marcio Oliveira and Andre Carvalhal study 20 Brazilian football clubs from 2005 to 2010 and find that clubs with good governance are more profitable, generate higher revenues, and win more championships domestically and abroad.
Shafi Mohamad explores the influence of national corporate governance codes on IT governance transparency and compares the IT governance disclosure requirements across two jurisdictions (Belgium and South Africa).
Maximilian Behrmann, Willi Ceschinski and Martin Scholand investigate the impact of ownership and remuneration structure on voluntary remuneration reporting and conclude that reporting quality in Germany differs heavily and depends on ownership and remuneration structure.
Manas Mayur finds out that investors have the tendency to realize gains more quickly than losses.
May Chidiac and Mireille Chidiac El Hajj study the factors that hinder Lebanese women journalists from climbing the ladder to top management positions.
Mohamed A. Shaker and Marwan M. Abdeldayem examine asset pricing models in Egypt.
Marco Minciullo and Matteo Pedrini investigate the influence of the industrial context on the implementation of proactive environmental strategies in listed firms, by verifying how the industry environmental impact affects the development of proactive environmental strategies.
Fabio La Rosa, Francesca Bernini and Giovanna Mariani aim to verify if family involvement in ownership and management influences firms' acquisition propensity, type of strategy, and post-deal performance.
Marco Grumo fills the literature gap by assessing the relationship between the (organizational) complexity of the financed project and the monitoring mechanisms put in place by corporate foundations around the world.
Massimo Cecchi detects whether earnings are manipulated through GAAP.
To browse the issue, please, visit the following link.
We hope that you will enjoy reading this issue of our journal!