New issue of the Journal of Governance and Regulation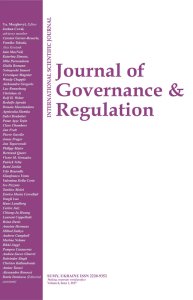 The editorial team of Virtus Interpress is pleased to present the first issue (volume 9, issue 1) of the Journal of Governance & Regulation in 2020. The issue is represented by scholars from the USA, Japan, Monaco, Taiwan, etc. The published papers discuss a broad variety of topics, such as artificial intelligence in corporate governance, firm performance, HOMA procedures, MARA procedures, fiscal rules, government effectiveness, stewardship code, passive funds, asset ownership and management, etc.
The full issue of the journal is available at the following link.
Hugh Grove, Mac Clouse, Laura Schaffner, and Tracy Xu analyzed the tremendous significance of artificial intelligence development for all the major players for effective corporate governance and national leadership. The main research question of this paper is what are the key threats, challenges, and opportunities of artificial intelligence.
Thi Thanh Binh Dao and Thu Tra Nguyen studied the influence of corporate governance on Asian firm performance using meta-analysis on over 251 studies covering 24,867 businesses of 37 distinguished published papers. The authors provided evidence that better corporate governance index and more board independence significantly enhance firm performance.
Chiung-Ju Huang and Yuan-Hong Ho conducted a research on impact of national fiscal rules and government effectiveness on the procyclicality of fiscal policy on advanced and emerging Asia-Pacific countries. The empirical results demonstrate that fiscal rules and government effectiveness are effective only in advanced economies.
Akio Otsuka approached to identify whether the increase in institutional investors has encouraged investee companies to establish a better corporate governance structure.
Finally, Guido Max Mantovani presented an interesting review of the book titled Innovation in financial restructuring: Focus on signals, processes and tools devoted to the financial practices in restructuring processes, focusing on all the operational actions related to the procedure..
We hope that reading this issue will be interesting and informative for you!