New issue of the Journal of Governance and Regulation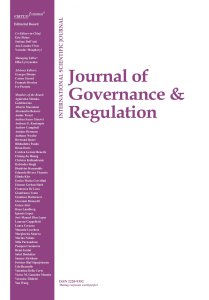 The editorial team of Virtus Interpress is happy to present a special issue of the Journal of Governance and Regulation in 2021. This issue is presented by different parts of the world such as West and South Africa, South and Southeast Asia, the Middle East, the Balkans, Western Europe, and the USA.
The papers published in this issue light on some aspect of governance and regulation including strategic planning, technopreneurship, accounting information system, disclosure, financial reporting quality, interest rate policy, monetary policy, subprime mortgage crisis, legal institutions, law enforcement, corruption, women on boards, gender balance, economic development, income inequality, economic growth, traditional business, online business, entrepreneurship, financial literacy, digital literacy, small business enterprises, national and international regulators, fraudulent financial reporting, audit committee, auditor's reputation, etc.
The full issue of the journal is available at the following link.
The first paper in this issue by Mapeto Bomani, Gladys Gamariel, and James Juana is focused on STEM universities in Sub-Saharian Africa, and through fresh and informative analysis of the existing literature provides evidence of the need to enable students in addition to technical knowledge to acquire entrepreneurial skills that will increase their career chances in the world of work.
Research by Adel Qatawneh and Ayman Bader conducted on a sample of respondents in commercial banks in Jordan draws attention to AIS applications as useful tools to increase the quality of accounting information.
Wan Adibah Wan Ismail, Iman Harymawan, Dian Agustia, and Khairul Anuar Kamarudin through the analysis of financial reporting after corporate governance reforms in Malaysia, point out that the lesson learned from this example is that for a successful change of the institutional environment, strengthening corporate governance is not enough, but also requires the support of a strong economic and legal system.
The next study by Mostafa E. AboElsoud, Anas Al Qudah, Dimitrios Paparas, and Ahmed Bani-Mustafa aims at a critical rewriting of the causes of the collapse of the global financial system 2007–2008. This research demonstrates that additional empirical studies using new techniques are required to reevaluate the Fisher effect and expand the understanding of the mechanism between interest rates and inflation.
Xhemazie Ibraimi focuses on how different state bodies deal with numerous aspects of corruption in Kosovo. An analysis of data from the EU database reveals that corruption is a major obstacle preventing the development of Kosovo in the direction of a proactive state and agile civil society.
A paper by Maria João Guedes and Sara Falcão Casaca is focused on measuring the gender composition of corporate boards, convinced that the promotion of gender equality can contribute to the development of a society that will provide more equal opportunities and less social inequalities.
Hugh Grove, Maclyn Clouse, and Tracy Xu in their paper analyze the recent developments in climate change and identify potential sources of vulnerability of companies, but also business opportunities arising from climate change, basing their conclusions on the analysis of documentation of relevant international organizations and institutions.
Dondon T. Dagdag draws attention, using the example of ecotourism in the Province of Quirino (Philippines), on customer focus as a key trend of new business models and points to the importance of educating staff to successfully cope with constant changes in the business environment.
Research by Adrino Mazenda and Priviledge Cheteni aims to explore the effects of governance proxied by the World Bank Governance Indicators (WGI) on economic welfare in the BRICS. The article is relevant and discloses iterations of the distinction between good governance and sound policy implications on developing nations' economic welfare.
Shaip Bytyçi, Venet Shala, Besime Ziberi, and Ervin Myftaraj in their study are focused on the impact of the COVID-19 pandemic and its consequences on business in Kosovo and North Macedonia. For sample, construction and data collection, they reached into the huge Google and Facebook repositories and came to the conclusion that this external shock increased the consumers' confidence in online shopping.
A paper by Williams C. Iheme offers an important insight that one of the devastating consequences of the COVID-19 pandemic is the rapid growth of corruption in government bodies and institutions in developing countries.
A study by Fitriya Fauzi, Darius Antoni, and Emi Suwarni conducted on a sample of micro, small, and medium-sized enterprises in Palembang, Indonesia identifies women entrepreneurs as important stakeholders who can increase company growth and their adaptability to dynamic changes in the environment, assuming investment in financial and digital literacy.
Abena Engmann and Collins C Ngwakwe present their research on a sample of young entrepreneurs in Ghana, which aimed to explore the impact of social media on business decisions, emphasizing the crucial importance of online contacts for business success because social interactions represent a source of resources in resources scarce Sub Saharan Africa.
Jyxhel Spahi, Venet Shala, and Demir Limaj point to the need for formal education of SME owners in the field of human resource management as a basic prerequisite for the development of the art of management in Kosovo and consequently a higher quality of business practices in this part of the world.
A paper by Flamur Keqa aims to evaluate the impacts of liquidity, profitability, size, loans and capital structure on banks' capital adequacy ratio (CAR) in the Western Balkan region using annual data from 103 commercial banks operated in Western Balkan countries for the period between 2010 and 2018.
Finally, a descriptive analysis by Hasan Mukhibad, Prabowo Yudo Jayanto, and Indah Anisykurlillah conducted on a sample of 11 commercial banks in Indonesia as a way out of the maze of fraudulent financial reporting finds it necessary to increase the quality of audit committees and strengthen the institutional environment.
We hope that you will enjoy reading this issue and find these contributions stimulating and valuable for your research!