New issue of the Risk Governance and Control: Financial Markets & Institutions journal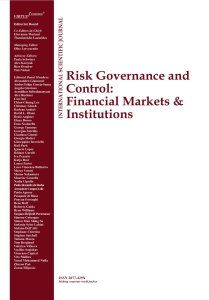 The editorial team of Virtus Interpress is delighted to release the fourth issue (volume 10, issue 4) of the Risk Governance and Control: Financial Markets & Institutions journal in 2020.
The published articles covers different interesting topics related to the future of finance, banking, and financial systems, such as big banks' digitalization, mergers and acquisitions, local banks' business models, profitability, strategic management, financial literacy, insurance issues, foreign portfolio investment, central banks' mission, debt finances, financial risks, etc.
The full issue of the journal is available at the following link.
Mauro Paoloni, Giorgia Mattei, Niccolò Paoloni, and Valentina Santolamazza in the first paper of the issue aim to investigate if any strategies could be undertaken to maintain the territorial relationship even when mergers and acquisitions and digitalization have become necessary on the basis of an ethnographic exploratory single case study.
Then, Evita Allodi, Enrico Maria Cervellati, and Gian Paolo Stella focus on the critical comparison between three strands of research: financial literacy, insurance literacy, and behavioural insurance literacy and decision-making and analyse the limits resulting from the lack of insurance literacy and the possible benefits literate consumers can achieve.
Michael Ojo Oke, Adeola Oluwakemi Adejayan, Funsho Tajudeen Kolapo, and Joseph Oluseye Mokuolu analyse the pull and push factors as determinants of foreign portfolio investment flows in the emerging market (Nigeria) from 1986 to 2018.
Alessandra von Borowski Dodl assesses the convenience and timeliness of making changes to the Central Bank of Brazil's mission with the aim to question the governance structure of the National Financial System to select priorities and implement them.
Finally, Lilian Nyamwanza, Hilja Iyalo Haufiku, Mashaya Ellen, and Charity Mhaka conduct a study in order to establish the impact of debt finance on the profitability of a firm using a case study of a furniture retail company, employing quantitative data from financial statements and qualitative data from interviews.
We hope that reading this issue will be interesting and informative for you!