New issue of the Risk Governance and Control: Financial Markets & Institutions journal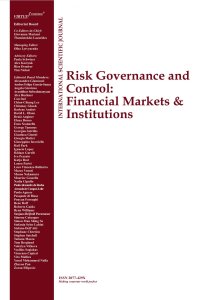 The editorial team of Virtus Interpress would like to present the first issue of the journal Risk Governance and Control: Financial Markets & Institutions in 2021 (volume 11, issue 1). Scholars from Finland, Albania, the USA, Italy, Germany, and Brazil published their papers in this issue of the journal.
The key topics analysed in this issue are, among others, financial technology (FinTech), fintech entrepreneurship, digitalization, innovation, banking sector, financial institutions, cooperative banks, evolutionary economics, stakeholders, foreign direct investments, economic growth, human capital, sustainability, environmental, social, and governance risks, firm performance, organizational behaviour, governance, regulation, consumer behaviour, etc.
The full issue of the journal is available at the following link.
Shab Hundal and Taisiia Zinakova in the first paper of the issue aim to explore, first, the role and relevance of FinTech in the commercial banking sector in Finland, and, second, the changing dynamics of stakeholders of the banking industry in the light of FinTech.
Then, Lorena Çakërri, Oltiana Muharremi, and Filloreta Madani analyze the dynamic relationship between foreign direct investment and economic growth, particularly emphasizing absorption capital variables.
Pasqualina Porretta and Andrea Benassi approach to investigate how sustainable the business model of cooperative credit banks is, how they are ESG (environmental, social, and governance) oriented, and what are the possible ways, in the prudential framework, to foster attention to the ESG paradigm in the bank's business model.
Riccardo Savio using data about a large sample of limited liability companies in Italy examines the influence of liberalization of shop opening hours on the reduction of firm performance, and how firms in the retail industry manage the risk of underperformance.
Thomas Holtfort, Andreas Horsch, and Joachim Schwarz study the drivers of FinTech evolution in different countries and continents that display different levels of FinTech activity and suggest that the gross domestic product, regulatory burden, government tech procurement and the degree of individualism are important drivers of FinTech startup activity.
Finaly, Alessandra von Borowski Dodl, focuses on the value structure that correlates improvements in the financial services consumer's decision-making quality with the development of their autonomy.
We hope that you will enjoy reading this issue!