New issue of the Risk Governance and Control: Financial Markets & Institutions journal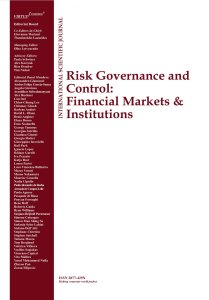 The editorial team of Virtus Interpress is delighted to publish a new issue of the journal Risk Governance and Control: Financial Markets & Institutions (volume 11, issue 3). The scholars from Italy, Canada, Germany, the UK, Brazil, Tunisia, and Kuwait have contributed to this issue.
The papers published in this issue address the questions of proper formation of institutions that are extremely important both at the level of the economy and at the level of individual organizations. In particular, the papers analyse the topics of risk governance, corporate regulation, corporate governance, replacement cost, fair value, Public Sector Accounting Standards, financial statements, Islamic finance, Islamic banks, traditional banks, bank performance, family firms, family ownership, financial crisis, abnormal returns, stock market performance, blockholders, IFRS, Key Performance Indicators, disclosure quality, climate risks, financial risks, financial stability, etc.
The full issue of the journal is available at the following link .
In the first article, Teresa Izzo, Francesco Paolone, and Matteo Pozzoli address very important issues for public sector entities: they review academic literature and professional practice guidance in relation to the replacement cost method of valuation in public sector financial accounting.
Raef Gouiaa and Pierre-Richard Gaspard analyse and characterize the performance of Islamic financial institutions and point out the basic differences between Islamic and traditional banking.
Fabio Franzoi and Mark Mietzner compare the stock market performance of family and non-family firms under financial crises (financial crisis and euro crisis) on the basis of the sample of 278 firms listed on the German Stock Exchange.
Nadia Cheikh Rouhou, Fatma Wyème Ben Mrad Douagi, Khaled Hussainey, and Ahmad Alqatan investigate context, the impact of International Financial Reporting Standards (IFRS) on the Key Performance Indicators' (KPIs) disclosure quality by UK FTSE 350 listed companies.
Alessandra von Borowski Dodl undertakes a discussion of climate-related financial risks as a governance issue, financial stability, and international cooperation, the applied analysis is carried out by connecting climate change to financial risks under a scenario of uncertainty.
The issue closes with a review of the book "Innovation in financial restructuring: Focus on signals, processes and tools" by Marco Tutino and Valerio Ranciaro. Stefano Dell'Atti highlights the book's contributions and points out that the book develops a novel approach to managing financial restructuring in a company.
We hope that the readers of this issue of the Risk Governance and Control: Financial Markets & Institutions journal will find this issue worth reading and interesting!