New issue of the Risk Governance and Control: Financial Markets & Institutions journal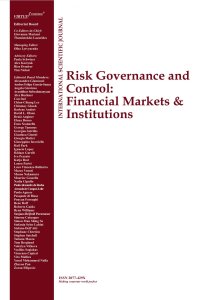 The editorial team of Virtus Interpress is honoured to publish the third issue of the journal Risk Governance and Control: Financial Markets & Institutions in 2022. This issue is represented by studies from Germany, Canada, the USA, and Lebanon.
The papers published in this issue seem very timely as they relate to the diverse and new frontiers facing corporate governance, and because they provide guidance to the academy of scholarship as well as to the practical world of managers, investors, practitioners, and regulators. In particular, the papers published in this issue analyse, among others, enterprise risk management, firm performance, audit, geopolitical risks, asset prices, economics of regulation, financial markets, wealth effects, listed companies, delisting, blockchain, non-fungible tokens, digitalization, decentralization, managerial accounting, earned media, text mining, COVID-19, etc.
The full issue of the journal is available at the following link.
In the first article, Phil Gonserkewitz, Erik Karger, and Marvin Jagals apply a systematic literature review to investigate the blockchain theme as a disruptive technology employed in different company areas.
Raef Gouiaa and Elias Issa aim to analyse the way in which risks are managed by Canadian firms in different industries and the impact of different risk management practices on performance.
Looking at the sustainability topic, Mfon Akpan measures Uber's community support initiatives' return on investment, taking a quantitative approach.
Khalil Feghali, Joe Hallak, and Samir Moussa address the effect of COVID-19 on audit opinion in the MENA region through a novel text-mining approach
Finally, WaQar Ghani and Ashok Margam examine the effect, in terms of shareholder wealth, of the delisting of Chinese companies listed on the U.S. capital market.
We are grateful to all the scholars who have contributed to this issue and hope that readers will enjoy reading papers of this issue and exploring the results of these studies!