New issue of the Risk Governance and Control: Financial Markets & Institutions journal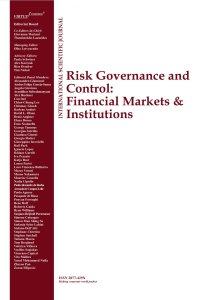 The editorial team of Virtus Interpress is pleased to publish the new issue of the journal Risk Governance and Control: Financial Markets & Institutions (volume 12, issue 4). The scholars from Austria, Italy, the Czech Republic, Portugal, Ghana, and Indonesia have contributed to this issue.
The articles published in this new issue shed light on a wide variety of topics, such as exchange rate, volatility, economic growth, export, foreign direct investments, asset management, economic performance, enterprise value, operational risks, market risks, digital transformation, digital ecosystem risks, digital banking, crypto assets, risk management in banks, family business, internationalization, business administration, corporate sustainability, etc.
The full issue of the journal is available at the following link .
In the first paper, Mario Situm and Stefan Märk reveal the value chain activities related to micro and small family firms in western Austria.
The second paper by Joseph Yensu, Seth Kofi Nkrumah, Samuel Amankwah, and Klenam Korbla Ledi documents how exchange rate volatility clustering can affect the economic growth of Ghana.
In the third paper, Maurizio Polato and Giulio Velliscig use a simple stochastic Monte Carlo simulation to capture the relevance of the asset under management return and volatility.
Fiqhifauzan Firdaus and Agustinus Nicholas Tobing in the fourth paper present a case study on digital ecosystem risk in digital banking.
The fifth paper by Noel Opala, Annika Fischer, and Martin Svoboda on cryptocurrency argues that the strength of the extreme value theory plays an important role in the case of digital currency and generates a preferable risk measurement strategy.
Based on survey data from entrepreneurs in the sustainable tourism industry, Ana Margarida Silvestre Graça emphasises how the harmony of pillars of sustainability can lead to financial success for companies in the tourism industry.
We are grateful to all the scholars who have contributed to this issue and hope that readers will enjoy reading papers of this issue and exploring the results of these studies!