New issue of the Risk Governance and Control: Financial Markets & Institutions journal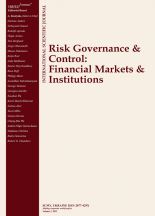 We are glad to introduce you the new issue (volume 9, issue 4) of the journal "Risk Governance and Control: Financial Markets & Institutions" in 2019 that is represented by the scholars from the UK, Greece, Italy, Taiwan, etc. The papers published in this issue cover a variety of topics, including financial crisis, citizen's trust, commercial banks, risk management, financial performance, financial markets, sustainable finance, Green Bonds Principles, corporate social responsibility, firm performance, return on assets, behavioural biases, risk misperceptions, company underinsurance, ETFs, tracking error, price deviation, assets under management, expense ratios etc.
The full issue of the journal is available at the following link.
Christos Kallandranis focused on rating episodes and bailouts while controlling for individual-level influences. The fundings show that the fundamental role played by national governments and public institutions has to deal with the significant loss of confidence resulting from the financial crisis.
Guan-Chih Chen, Shuling Tsao, Ren-Her Hsieh, and Pan Hu explored the impact of risk management on the financial performance of listed banks in China, comparing state-owned banks and non-state-owned banks, by establishing multiple linear regression analysis models.
Vittorio Boscia, Valeria Stefanelli, Benedetta Coluccia, and Federica De Leo examined green bonds providing the regulators' perspective about these tools. The authors find that the current voluntary regulatory system is still far from ensuring an adequate level of transparency to investors.
Md. Jahidur Rahman and Yu Fang investigated the relationship between corporate social responsibility and firm performance in China, using a sample of A-share listed firms from Shenzhen and Shanghai Stock Exchange for the period 2011 to 2017.
Enrico Maria Cervellati, Francesco Corea, and Paolo Zanghieri analyzed the effect of behavioural biases on entrepreneurs' decisions to insure their firms against different kinds of corporate risks, environmental risks included. They use a large sample of 2,295 Italian small and medium enterprises (SMEs).
George Tsalikis and Simeon Papadopoulos studied tracking errors from a sample of 15 American and European ETFs as well as analysed and discussed the factors that influence tracking error.
We hope that reading this issue will be interesting and informative for you!