Organisers and sponsors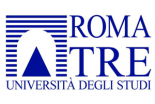 Roma Tre University is an Italian public research university located in Rome, Italy, with its main campus situated in the Ostiense quarter. The university comprises 8 schools and 32 departments, enrolling 35,338 students and having 1,370 academic and professional staff. At present, the university offers 54 undergraduate degree programs, 75 master's degree programs, 16 doctoral schools and five PhD programs. It is the second-largest university of Rome by enrollment and one of the largest research-based institutions in the country.

Publishing house Virtus Interpress has an expertise and global perspectives only in corporate governance. Virtus Interpress publishes four journals in corporate governance and regulation, and book series, acts as co-organizer of international conferences and seminars, and is a founder of International Center for Banking and Corporate Governance.

Virtus Global Center for Corporate Governance was established by Virtus Interpress in 2014. It is aimed to unite thousands of experts who have expertise in general corporate governance. Therefore to unite the network around the idea to conduct research in general corporate governance, not just in corporate governance and regulation in banks and financial institutions the new center was established.