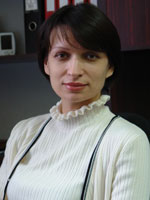 Dr. Helen Kostyuk is a Managing Editor on journals and books of the publishing house Virtus Interpress.
Helen has been contributing her efforts to the development of the publishing house on different stages since its foundation. Her academic career started in 1998 and since that time numerous research works were published in her authorship. She has defended her PhD on money finance and credit in 2006.
Helen is responsible for the implementation of numerous projects connected to the journals publication and organization of the conferences sponsored by Virtus Interpress.