Scopus webinar: What's happening right now and a look at what's to come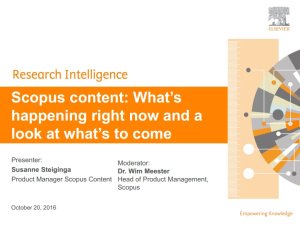 On the 20th of October Elsevier hosted a webinar updating the stakeholders on the main changes in the Scopus database and what should be expected in the nearest time.
Representatives of Virtus Interpress took part in the webinar in order to be in touch with the recent developments in the industry and make everything possible to make the cooperation with our authors most fruitful and valuable. The slides from the webinar are available here.
We would like to remind members of our network, that three journals published by Virtus Interpress are currently indexed by Scopus:
Corporate Ownership and Control
Corporate Board: role, duties and composition
Risk Governance and Control: Financial Markets & Institutions
The third journal: Journal of Governance and Regulation is currently under the evaluation of Scopus and we expect to know the results of evaluation in the first part of 2017.
To know the updates: follow the news of Virtus Interpress.