Seoul Corporate Governance Forum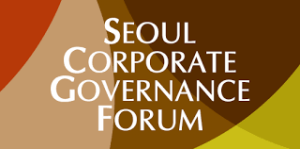 The Seoul Corporate Governance Forum aims to support corporate governance research and reform as engines of dynamic growth in the Korean as well as East Asian financial markets and economies.
The Forum provides its members and participants with knowledge and information regarding the development of best practices and strategies in corporate governance and finance.
The Forum also creates local and international initiatives that address the issues of ethics and sustainability in business and the financial market.
More information can be received here.