Special Issue of the Risk Governance and Control Journal is Published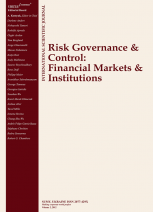 Special issue "Risk Management and Corporate Governance in African Countries" of the journal "Risk Governance and Control: Financial Markets and Institutions" has been published.
The special issue pays attention to the peculiarities of risk management and corporate governance in African countries. More detailed information is given below.
H Mills, C Gerber, M Terblanche-Smit assess the influence of organizational size on performance measurement of market-driven organizations. A web-based survey was conducted whereby managers indicated their satisfaction with performance measurement practices, the regularity with which performance measurements were collected and the importance attached to performance measures collected. Respondents were fairly satisfied with existing performance measures, irrespective of organization size. No significant difference between organization size and respondents perception about the value placed by top management with regards to performance measurement was found. The study concludes that managers can make decisions that could ultimately reduce risk when they utilize proper performance measures.
Zeleke Worku assesses the impact of over-regulation and bureaucracy on the long-term survival and viability in small enterprises. Data analyses were performed by using probit analysis and the Cox Proportional Hazards Model. Additional analyses were performed by using in-depth interviews. The study showed that there was a significant association between the perception of over-regulation and failure in small enterprises.
Wellington Zondi determines the extent to which business people within eThekwini municipality share information through networking. The study was conducted in KwaZulu-Natal, within eThekwini Municipality. The study revealed that most small business owners are not members of bodies representing businesses like theirs. Secondly, while small businesses in eThekwini have confidence in the future of eThekwini economy, they feel so individually, and not as members of network groups. Thirdly, most of the respondents except those that are members of bodies representing businesses like theirs, do not talk to competitors. Fourthly, small business owners with low self-confidence are less likely to network. They tend to keep information to themselves.
Nozipho Sithole, Musawenkosi Ngibe assess the impact of the Assisted Education Programme (AEP) in developing, improving human capital and productivity specifically for eThekwini Municipality employee human resource. This programme offers funding to employees to further their studies in higher learning institutions, which are in partnership with and recognized by eThekwini Municipality. The core function of this programme is to improve and develop employee capabilities in order to enhance municipal productivity. However, different factors have prohibited the programme from reaching required funding polity objectives. Participants filled in questionnaires and from them data were collected. The study used quantitative research as a method of research. The study concluded that municipal employee underutilized the AEP because of being ill informed about it. This resulted in the employee perception that the programme had little or no benefit to them and that it had no value in improving their human capital development.
Mbako Mbo, Charles Adjasi investigate performance drivers in a State Owned Enterprise from a perspective of contending organizational theories. It is based on BPC, an SOE that has gone through varied performance trends under different business models over the last 44 years. The study uses both qualitative and quantitative data from the last 15 years and finds that good performance has been supported by notions of the agency, stewardship and resource theories while a blanket pursuit of the stakeholder theory undermined sustainable performance, just as public choice theory implications. Two perspectives emerge: a broadened view of the agency theory reconciling traditional shareholder centric interests with those of the wider society and a residual societal benefits inherent in the public choice theory.
Hlako Choma, Tshegofatso Kgarabjang look at the steps that the credit provider ought to take in order to ensure that a notice, notifying the debtor about his/her debt reaches him/her as a consumer before such notice could commence court litigation. This can only happen, in the circumstances where he/she (the defaulter/consumer) failed to comply with his/her obligation. The North Gauteng High Court was required to decide the legal requirements that may be brought in to satisfy the court on preponderance of evidence that the credit provider has satisfied the court that the defaulter or consumer received such notice.
Philisiwe Charity Cele, Lawrence Mpele Lekhanya examine the extent to which socio demographic factors impact academics from publishing accredited outputs. It also seeks to highlight the important role of research management as a highly professional and dynamic activity that must constantly adapt to the changing environment within which universities operate. The findings of the research revealed that males with masters and doctoral degrees are the most involved in research activities. The paper will benefit the institution by enhancing institutional research management systems and practices, ensuring relevant policies are in place. Enable research management to deploy the institution's research resources optimally so as to curb over reliance on the limited institutional research budget.
William Sewell, Jacobus N. Steyn, Petrus Venter, Roger B Mason report on a comprehensive survey of priority research needs of the South African wholesale and retail sector, with the objective of providing an overview of the most significant research requirements of this significant economic sector. The survey was conducted across a spectrum of sector stakeholders including corporate, independent and informal traders, in all provinces. Considering functional areas and Standard Industry Classification divisions, the multiplicity of research problems perceived by industry stakeholders is analysed and distilled into the 'Top Ten Research Priorities' for consideration by the retail industry, government policy makers and academic researchers.
Louise van Scheers determines whether the risk of outsourcing the IT function can be managed. Driven by political and economic dynamic changes, facilities management was borne to enable reacting to change. Doing business in today's global economy requires exceptional skills from management in order to be competitive and to have a specific competitive advantage over competitors are getting even more demanding. One of the widest used methods of facilities management deployed by organisations is that of outsourcing in various forms (i.e. I.T., H.R., Distribution, Warehousing, etc.) for various different reasons (i.e. reduce costs, improve quality, focus on core business, etc.). In order for outsourcing to be successful, it needs to add benefits to profits, efficiency or effectiveness ethic. Outsourcing assists management to gain a competitive advantage over competitors within their specific industries as part of their organizational strategies and developing or strengthening core competencies at the same time. Global outsourcing on the other hand leads to controversy inasmuch as it reduces home-country economic activity and employment. The consulted secondary resources confirm that if outsourcing delivers managers can take calculated decisions to use it in their businesses. The future of outsourcing is promising as non-core functions of businesses may rather be outsourced to save on costs. A broad set of new and alternative IT delivery models are already main stream. These models receive attention because of benign economic market conditions.
Arthur Mapanga, Collins Miruka, Nehemiah Mavetera investigate the export strategy implementation risks in Zimbabwe's clothing sector with a view to build a framework for improving strategy implementation and governance. From the research, six of the strategy implementation risks were linked to human elements. Leadership, consensus and commitment deficiencies militated against the implementation of the export strategy in the clothing value chain. There is also a lack of trust among the value chain actors leading to the dislocation of efforts to resuscitate the sector.
Sanjana Brijball Parumasur, Patsy Govender explore the relationship between spirituality in the corporate environment and corporate or organisational citizenship behaviour. The study was undertaken in a retail products outlet that focuses on quality and professionalism. The sample was drawn using cluster sampling and the adequacy of the sample was assessed using the Kaiser-Meyer-Olkin Measure and Bartlett's Test of Sphericity. Data was collected using a closed-ended, established questionnaire and analysed using descriptive and inferential statistics. The results reflect that the organisation is fairly high on workplace spirituality with the focus being on meaningfulness of work and, on corporate or organisational citizenship behaviour with altruism and civic virtue being its greatest strength. There is a significant relationship between spirituality in the corporate environment and corporate or organisational citizenship behaviour, with sportsmanship and civic virtue being strong predictors of workplace spirituality. The results therefore, display the dynamic relationship between spirituality in the corporate environment and corporate or organisational citizenship behaviour, which when nurtured has the potential to enhance both bottom-lines of profits and people as well as society as a whole.
Christo Ackermann summarises the extent to which internal audit's work assists audit committees in their oversight responsibilities as this ultimately affects the ability of audit committees to fulfil these responsibilities to the board of directors. The results indicate that audit committees are greatly dependent on internal audit as a provider of assurance on a variety of legally mandated variables. The results of this study can be used as a measure of best practice of the legally mandated duties performed by internal audit. It can also be used by other researchers in comparative studies and by practitioners to benchmark their work in order to better serve audit committees and ultimately, the board of directors.
Kudakwashe Chodokufa establishes whether SMEs mitigate risk through the purchase of insurance. As well as to determine the influence of business size, level of education of the owner, Recovery Plan and the knowledge of insurance products on the purchase of insurance by the SME owner. A sample of 322 SMEs in the Nelson Mandela Metropolitan Area South Africa was selected and 203 questionnaires were returned. The results showed that SMEs do not to mitigate risk through the purchase of insurance. The size of the business, level of education, having a Recovery Plan and knowledge of insurance products had an influence on the purchasing of insurance by SME owners/managers for their business.
To access papers in the issue follow this page.