The first issue of Corporate & Business Strategy Review Journal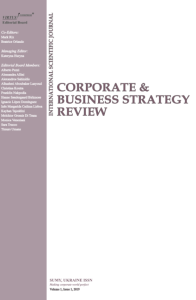 We are delighted to present the first issue of the journal "Corporate and Business Strategy Review".
The papers therein discuss the questions of corporate and business strategy, including active ownership, voting rights, the veil of incorporation, gambling, the life insurance industry, etc.
The issue starts with the study of Francesco Drigo who investigates the engagement activities of Italian institutional investors and outlines possible developments with respect to local engagement practices.
Siphethile Phiri focuses on the phenomenon known as the corporate veil. This research seeks to discover what constitutes unconscionable abuse of the juristic personality. Simply put, this research aims to identify the circumstances under which the corporate veil may be pierced.
The research of Sovanbrata Talukdar deals with financial constraints and how they may lead to economic recess or back. It explains the positive relationship between excess return in the stock market (ERSM) and non-real funding or riskier credit. Moreover, it presents measures to get awareness before default comes.
In their study, Rajeev Kumar Ranjan, Shoaib Alam Siddiqui, Nitin Thapar, and Shyam Singh Chauhan attempt to find the impact of technology on purchase behavior of consumers for insurance products. They analyze the consumer purchase behavior to determine the effect of two nominal predictor variables on a continuous outcome variable.
The issue ends with a book review authored by Raef Gouiaa who shortly outlines the fundamental questions researched in the book, pays attention to its strong sides and issues that will be, by the reviewer's point of view, most interesting for the reader.
The editorial team hopes for fruitful cooperation with scholars, who have scientific interests consistent with the theme of the journal.
To browse the issue visit this page.