The first issue of Corporate Governance and Sustainability Review journal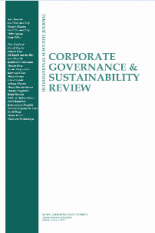 The recent issue of the journal CORPORATE GOVERNANCE AND SUSTAINABILITY REVIEW focuses on the questions of governance and sustainability, business ethics, sustainable finance, accounting and disclosure, performance measurement and management control with application to both macro and microeconomic sector. More detailed issues are given below.
Patrick Velte investigates the link between women on management board and the value relevance of fair value accounting according to IFRS 13. The empirical quantitative study covers a sample of German companies listed on the Prime Standard of the Frankfurt Stock Exchange for the business years 2013-2015 (411 firm-year observations).
Maqbool Ahmad, Basheer Ahmed and Munib Badar explore two research approaches to capital structure i.e. antecedents and consequences of debt borrowing on firm specific and corporate governance factors. The research looks into the determinants of capital structure to ascertain whether the financing decisions are optimal or not and presents a selection of unbalanced panel data for 160 non-financial firms listed at PSX from 2007 to 2011.
Hashem Iswaissi and Kazem Falahati contribute insights into corporate governance (CG) practices in Libyan Commercial Banks (LCBs) in order to find out any essential challenges that are associated with the process of adopting CG in the LCBs which became mandatory implementation in late 2010 in Libya. The study adopts a qualitative approach by conducting semi-structured interviews to collect the required data within the framework of stakeholder and new institutional theories of CG.
Andrea Sacco Ginevri analyses the main convergences and divergences among the different notions of "persons acting in concert" adopted by certain EU and US regulations concerning financial institutions and public companies, for the purpose of identifying a common set of principles governing the interpretation and application of such legal concept.
To browse the issue - http://www.virtusinterpress.org/-Issue-1,552-.html.