Upcoming Book Announcement - Corporate Ownership and Control: International trends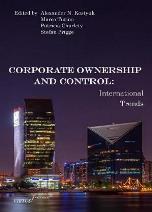 In February 2018, Virtus Interpress initiated a new project about writing a book "Corporate Ownership and Control: International trends".
The book will provide a clear international comparison of major trends in corporate ownership and control. It will be published by Virtus Interpress and will be promoted worldwide through the network of subscription agencies, booksellers, online platforms as well as inside of its international scholarly network.
We are glad to announce that the book is currently on the stage of typesetting and will be published as a hardcover at the beginning of May, 2019.
"Corporate Ownership and Control: International trends" includes views of 10 contributing teams on the main issues of the corporate ownership and control and outlines of its fundamental aspects in different countries:
Karen Hogan and Gerard T. Olson, the USA
Francesco Grimaldi and Stella Lippolis, Italy
Ignacio Lopez Dominguez and Félix Ortega-Mohedano, Spain
Meltem Gurunlu, Turkey
Gonca Atici and Guner Gursoy, Turkey
James Lockhart, New Zealand
Dilesha Nawadali Rathnayake, Diby Francois Kassi, Pierre Axel Louembe and Ning Ding, China
Eduardo Flores, Joelson Oliveira Sampaio and Douglas Augusto de Paula, Brazil
K. Sreekumar and Dhanya Alex, India
Franklin Nakpodia, Nigeria
The book will be edited by Stefan Prigge (Prof., Dr., Hamburg School of Business Administration, Germany), Alexander Kostyuk (Prof., Dr., Virtus Global Center for Corporate Governance, Ukraine) and Marco Tutino (Prof., Università degli Studi "Roma Tre", Italy).
To preview the book, please visit this page.
For ordering – pay online with the card here or contact book manager - Kateryna Huryna at k.huryna@virtusinterpress.org indicating that you would like to order the abovementioned book. We will send you the invoice in reply. Price of the book equals Euro 92.