New book has been released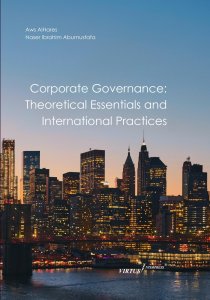 Virtus Interpress is pleased to announce that a textbook titled "Corporate Governance: Theoretical Essentials and International Practices" edited by Aws AlHares, and Naser Ibrahim Abumustafa has been published.
The textbook "Corporate Governance: Theoretical Essentials and International Practices" includes a number of contemporary illustrations and case studies and provides students with questions for reflection and discussion at the end of each chapter. It is designed specifically to accompany a one-semester module in corporate governance and is oriented toward undergraduates studying accounting and finance, business and management, as well as toward MBA (Master of Business Administration) and other postgraduate students taking modules with a corporate governance component.
This textbook will be a useful guide for trustees on the many training courses that are being developed for them around the country, as well as for other professionals in the institutional investment community who require a reference text on corporate governance issues.
Chapter 1 is about the increasing popularity of corporate governance which includes some theoretical frameworks in order to examine corporate governance closely. Chapter 2 presents corporate governance codes development in the UK. Chapter 3 analyses and explains the impact of corporates and their financial structure decisions. Chapter 4 explores the role of institutional investors in corporate governance. Chapter 5 studies the boards of directors and the role of non-executive directors in the governance of corporations. Chapter 6 is dedicated to compensation committees and executive compensation. Chapter 7 analyses the governance role of takeovers. Chapter 8 focuses on the key aspects of venture capitalists and buy-out issues that would lead to concern in corporate governance. Chapter 9 explains western securities market. Chapter 10 analyses the audit function and the role of regulation. Chapter 11 presents international corporate governance issues. Chapter 12 deals with corporate accountability. Finally, Chapter 13 studies the role of socially responsible investing.
You can preview and order the book here.