Visit to the TU Freiberg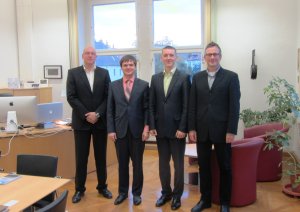 Representatives of the International Center for Banking and Corporate Governance – Yaroslav Mozghovyi and Dmytro Govorun made a visit to the Technical University of Freiberg (Germany).
There is a research group at the TU Freiberg focused on the issues of investment, finance and banking represented by Prof. Andreas Horsch, Jacob Kleinow and other researchers. Cooperation started with the visit of Mr. Kleinow to the Ukrainian Academy of Banking for the conference last May. Two institutions applied to DAAD for a research grant and will continue cooperation in the field of joint research.
Representatives of the ICBCG also made presentations at the International conference on Sustainability IMRE 15.