Web page of the Corporate Governance Experts Repository Launched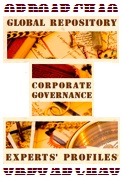 We are glad to announce launch of the web page of the new project for our international corporate governance network "Corporate governance experts' profiles: a global repository". We ask CG experts to provide us with main info about them, including position, research interests, published papers, research projects, etc.
We place this info at our web-site (repository.virtusinterpress.org) under their personal profiles. Annually our web-site is visited by more than 42000 experts in corporate governance from more than 80 countries of the world. We have a database of more than 22000 experts whom we know personally for many years.
We think that through introducing the Global Repository of CG experts will give many benefits for experts introduced:
More citations of papers of the experts
Comfortable platform for universities to search for the new faculty
Comfortable platform for the experts to search for new positions
Easy way to find the most appropriate groups for joint research projects
Very effective way to introduce himself to the global CG research community.
If you are interested in inclusion of your profile into the repository please contact us at repository[at]virtusinterpress.org.