An updated collection of research papers on corporate governance and audit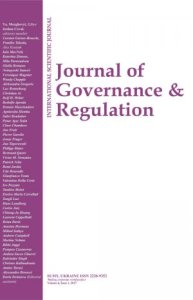 We would like to remind experts in the fields of corporate governance and audit that international peer-reviewed Journal of Governance and Regulation is currently collecting papers for the upcoming issues of the journal in 2019.
Key-topics of the journal are available here.
For more information visit instructions for the authors section.
The submissions should be sent to managing editor at d.chorna[at]virtusinterpress.org, co-editors at mozghovyi[at]virtusinterpress.org and eric.pichet[at]virtusinterpress.org.
Here is the updated collection of papers published in the journal related to the issues of corporate governance and audit: