COC journal: Feedback from the authors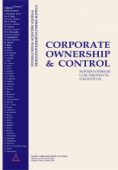 Publishing House "Virtus Interpress" continues to implement its transparency policy in terms of communication with the key stakeholders – authors.
Dr. Marco Bigelli, University of Bologna, Italy: "Corporate Ownership and Control is a perfect journal for trying to publish a paper in a reasonable amount of time, as the review process and the communication with the journal's editorial team are both prompt and constructive. The accepted papers address a variety of topics in the main corporate governance and finance fields making the journal a good target for a wide range of possible publication in the area".
Prof. Dr. Marc Eulerich, University of Duisburg-Essen, Germany: "Corporate Ownership and Control" offers a broad variety of Corporate Governance research. Furthermore, the whole submission and editorial process is very supportive with quick responses and fair reviews. The editors are helpful and try to answer all question from the researchers".
Dr. Ahmed Boghdady, Zagazig University, Egypt: "My first publishing experience was with the Corporate Ownership & Control Journal and it was very positive - the editor and all staff were always very helpful and had quick answers. The review comments were very useful and constructive. I am so pleased to have had this experience".
More comments from the authors are available here.