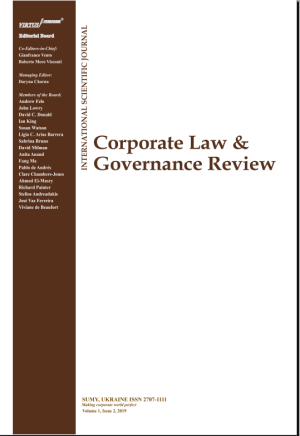 CORPORATE GOVERNANCE: HOW FISCAL AND INDUSTRY REVOLUTION IN ITALY CAN CHANGE THE LABOUR MARKET?
Abstract
The intent of the paper is to understand which new scenarios and future figures could emerge with the Corporate Governance Industry Revolution 4.0, but also which professional figures could disappear, decrease in number or transform; also prefigure what changes could occur in the way of work performance, of new and old professions, in relation to the inevitable changes in production processes that will be introduced by this new industrial revolution. My point of view, of analysis, is clearly that of union representation, in all forms, and of workers. The question that I and I hope all the components of the trade unions are asking is: will we be able to be able to understand, represent and protect all the workers who will be involved in Industry 4.0? Clearly the writer does not pretend to find solutions, although from my observations, experience of representation can certainly provide suggestions and ideas, aided by the study and research still conducted by the major unions such as: CGIL-FIOM, CISL- FIM and UIL-UILM in Italy.
Keywords: Corporate Governance, Financial Markets
Received: 24.03.2019
Accepted: 12.05.2019
Published online: 13.05.2019
JEL Classification: M4, M48
How to cite this paper: Di Tommaso, F., & Gulinelli, A. (2019). Corporate governance: How fiscal and industry revolution in Italy can change the labour market? Corporate Law & Governance Review, 1(1), 16-23. http://doi.org/10.22495/clgrv1i1p2

The payment can be made with credit/debit card via secure payment system provided by Ukrainian processing center. During the payment, you will probably receive an SMS from your bank with the password to confirm the transaction. The price in Euro is an oriented one. The payment will be charged in UAH according to the exchange rate of your payment card provider. Once the payment is made we will process it ASAP and our representative will contact you to deliver the service/confirm the payment.