Conference proceedings book has been released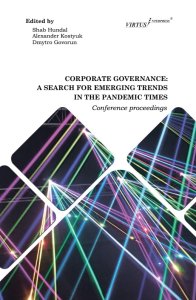 Publishing House Virtus Interpress is happy to release the conference proceedings book titled "Corporate governance: A search for emerging trends in the pandemic times" edited by Shab Hundal, Alexander Kostyuk, and Dmytro Govorun.
This conference was the third scholarly online forum held by the team of Virtus GCCG since May 2020. The conference was an excellent platform to present, discuss and share the most recent ideas in the corporate governance research, in particular, the emerging corporate governance trends in the context of the worldwide pandemic. Conference participants discussed such topics, as corporate governance, state-owned enterprises, information governance, board of directors practice, accounting, audit, Islamic banks, risks regulation, IT governance, digitalization, family businesses, ownership structure, data governance, artificial intelligence technologies, capital markets, financial reporting, internationalization, firm performance, gender diversity, etc.
A total of 48 authors representing such countries, as Italy, Greece, Germany, the UK, Portugal, Finland, Canada, the USA, Australia and others contributed to the conference proceedings. Conference presenters and conference discussants took an active part in the conference forum discussion and provided more than 150 comments with a deep analysis of the materials presented at the conference.
This conference proceedings book contains not only materials of the conference presenters but also a full list of comments generated by the conference participants during the forum discussion as well as a set of infographics with very useful statistics about the conference forum.
The conference proceedings book is Open Access, all conference materials may be found here.
The full conference proceedings book , that includes all the conference materials, conference forum discussion, conference infographics, conference forum discussants index, may be downloaded here.
The detailed information about the book may be found at the webpage of books released by Virtus Interpress here.