Corporate & Business Strategy Review: New feedback from the authors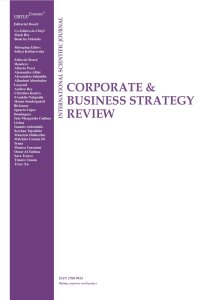 The editorial team of the Publishing House Virtus Interpress continues to implement its transparency policy in terms of communication with the authors as key stakeholders. In this regard, we are glad to share new feedback from the authors who have recently published their papers in the Corporate & Business Strategy Review journal.
Eko Suyono, Faculty of Economics and Business, Jenderal Soedirman University, Purwokerto, Indonesia: "I really appreciate publishing our papers in the Corporate Strategy and Business Review and other Virtus journals due to the professional response including professional review which gives the authors a good opportunity to publish their paper on time. I would like to publish our papers in the Virtus Interpress journals in the future. Thank you so much".
Angelo R. Santos, College of Management and Business Technology, Nueva Ecija University of Science and Technology, Nueva Ecija, Philippines: "Overall, my experience working with the managing editor and the reviewing process was positive. I found the communication to be clear and timely, and the reviewer's report was thorough and helpful. I appreciate the opportunity to have my work published in the journal and look forward to any future collaborations".
Mochammad Fahlevi, Management Department, Bina Nusantara University, Jakarta, Indonesia: "My experience with the "Corporate & Business Strategy Review" journal has been largely positive. The communications with the managing editor were prompt and clear, ensuring a smooth submission and revision process. The reviewing process was thorough, and the feedback I received from the reviewers was constructive, aiding in enhancing the quality of my work. The reviewer's report provided was detailed and offered valuable insights. Overall, I am satisfied with the professionalism and efficiency demonstrated by the journal's team".
Rashidah Mokhtar, College of Computing, Informatics and Mathematics, Universiti Teknologi MARA, Segamat, Malaysia: "Overall, the process of reviewing the paper till publication is quite smooth, thanks to the editorial management's assistance. In terms of communication, I received a prompt answer to my inquiries. The evaluator's feedback is also very helpful in improving the paper's quality. Thank you very much to the editing staff for successfully publishing our paper".
Joy N. Savellano, College of Management and Business Technology, Nueva Ecija University of Science and Technology, Cabanatuan City, Philippines: "From the bottom of my heart, let me express my sincerest thanks and gratitude to you and to the whole editorial team. You made my first-ever experience of publishing in a renowned Journal less difficult because of your prompt responses to our queries, immediate action to our concerns, and acceptable points of review with very clear justification that elicits a high standard of views/feedback that all leads to a well-crafted manuscript. I felt so motivated because of our very smooth cooperation and I am looking forward to another engagement with you and your team. Again, Maraming Salamat po! (Thank you so much!)".
Malik Muhammad Sheheryar Khan, Higher Colleges of Technology, Sharjah, UAE: "I was extremely satisfied with the entire process. I knew exactly what had to be done at each stage. The editorial team was extremely cooperative. The feedback from reviewers was comprehensive. This allowed me to make all the necessary changes with ease. I would highly recommend the Corporate and Business Strategy Review journal to all academic authors".
More comments of authors and reviewers of the Corporate & Business Strategy Review journal are available here.