Journal of Governance and Regulation: New feedback from the authors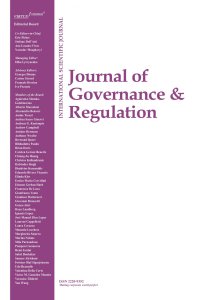 The editorial team of the Publishing House Virtus Interpress continues to implement its transparency policy in terms of communication with the authors as key stakeholders. In this regard, we are glad to share new feedback from the authors who have recently published their papers in the Journal of Governance and Regulation.
Prof. Xhemazie Ibraimi, Faculty of Law, AAB College, Pristina, the Republic of Kosovo: "I have published many articles in various magazines but the publication and collaboration in this magazine with the editor Olha has left me without text. A perfect wonderful editor who knows how to motivate new publishers by pushing them to continue the work started with the word that you can only need a little more that your work is great just please do that too. This thanks to the Editor and the team where the work then passes to the evaluation on the technical side, you are all great as a team that knows how to attract and motivate new publishers. I would like to guide all my colleagues to publish in this magazine with Editor Olha and this wonderful team as it is worth it".
Mapeto Bomani, Department of Business, Management & Entrepreneurship, Botswana International University of Science and Technology, Botswana: "I published an article with the Journal of Governance and Regulation. I applaud the Senior Managing Editor for excellent and timely communication with authors. The review process is timely and professional. Reviewer reports are clear, objective, comprehensive and help develop the writing style of authors".
Abena Engmann, School of Business Leadership, University of South Africa, South Africa: "I was really impressed with the entire communications process with the Managing Editor of the Journal. She communicated with me every step of the way from the minute my manuscript was received till it was published. My mails were acknowledged and follow ups made when I did not respond in time. The reviewers' report were simple but concise, easy to understand and respond to. This was my first publication but the experience was simply amazing".
Dr. Williams C. Iheme, Associate Professor of Law, O.P Jindal Global University, India: "I was very impressed by the high-level efficiency of the editorial team of Journal of Governance and Regulation (JGR). I got a detailed and helpful feedback from the peer reviewers within 6 weeks of submission, and their feedback helped me in improving the quality of my manuscript. The editorial team of JGR was timely in their email responses and ensured that the published manuscript met with the highest standards of academic publication. I highly recommend JGR to other scholars who wish to publish their important works".
More comments of authors and reviewers of the Journal of Governance and Regulation are available here.