Journal of Governance and Regulation: New feedback from the authors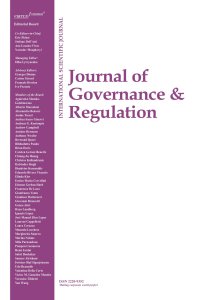 The editorial team of the Publishing House Virtus Interpress continues to implement its transparency policy in terms of communication with the authors as key stakeholders. In this regard, we are glad to share new feedback from the authors who have recently published their papers in the Journal of Governance and Regulation.
Pankaj Mishra, Aligarh Muslim University, Aligarh, India: "The publications experience with Virtus Interpress was hassle free, cooperative and enlightening. The comments from reviewers were to the point and it was restricted only to finding out the gaps. The comments suggested alternatives as well as other possibilities that we could explore and then imbibe in the article. Each section of the article was commented on with the intent of improving it. The communications were prompt and never missed the committed timelines. The communication with the Managing Editor was smooth and accommodative ensuring at the same time that the quality of the submission is aligned to the Journal's requirements. We look forward to submitting to the Journal in the future as well".
Endri Endri, Faculty of Economic and Business, Universitas Mercu Buana, Jakarta, Indonesia: "Our paper which is published in the Journal of Governance and Regulation has been carried out in a systematic review stage and the comments provided have made our paper much better than the initial submission. Thank you to the reviewers and editors for their cooperation until our paper has been covered by Scopus".
Williams Omokhudu Odiwo, Department of Business Administration, Edo State University Uzairue, Iyamho, Nigeria: "Dear Editor, I am so glad to have published in your reputable journal. I have introduced the journal to all my colleagues and they are happy with it. The editor keeps schedules. Kudos to all the editors for their dedication for a job well done".
Thu Trang Ta, National Economics University, Hanoi, Vietnam: "I am very pleased with the reviewing process and quick response from the editorial team of the Journal of Governance and Regulation. The journal has been professional support and in compliance with editorial policy. Overall, I am very satisfied and hope to continue to cooperate with the journal in the future".
Ziad Kh. Al-Enizi, College of Law, Al Ain University, Abu Dhabi, the UAE: "In fact, the experience of publishing in the Journal of Governance and Regulation was excellent, where the editorial team was very cooperative and the responses were quick, whether during the submission period or the peer-review process. Also, the comments, notes, and corrections from the editorial team had a significant impact on enriching and improving the research in terms of both form and content. I wish the journal and the editorial team to continue on this professional approach of work, and I will definitely be pleased to publish in the journal and collaborate with them again".
More comments of authors and reviewers of the Journal of Governance and Regulation are available here.