Journal of Governance and Regulation: New feedback from the authors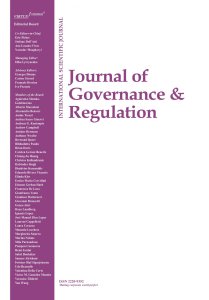 The editorial team of the Publishing House Virtus Interpress continues to implement its transparency policy in terms of communication with the key stakeholders – authors. In this regard, we are glad to present new feedback from the authors who have recently published their papers in the Journal of Governance and Regulation.
Akio Otsuka, Law School, University of Tsukuba, Japan: "The communication with the managing editor is perfect because the timeline was shown clearly and the promise thereof was kept strictly. I received two reviewers' reports which were relatively balanced. One was comprehensive and the other was detailed. I like both. I appreciate the two reviewers".
Vjollca Istrefi, University of Strasbourg, France: "I feel very privileged to have published my first article in your Journal of Governance and Regulation. This journal admirably reflects seriousness, quality, accountability and transparency throughout the review phase, right through to final publication. The review process is set very carefully, accompanied by very useful suggestions and guidance, so that you have a perfect final product. The collaboration is exceptional. With pleasure, I declare that my satisfaction is utmost".
Jasper Kim, Graduate School of International Studies, Ewha Womans University, Seoul, South Korea: "The overall process working with Journal of Governance and Regulation was extremely collegial, efficient and easy. All the editors, in my view, provided insightful feedback. The journal team is very cordial. The peer reviews were helpful to improve the manuscript. I also found the online user experience is straightforward to navigate. And the overall outcome met or exceeded expectation".
More comments of the authors and reviewers of the Journal of Governance and Regulation are available here.