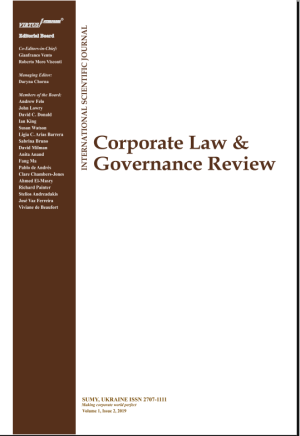 Long-term stockholder and stakeholder value and corporate governance implications
Download This Article
Hugh Grove
, Maclyn Clouse
, Tracy Xu

This work is licensed under a Creative Commons Attribution 4.0 International License.
Abstract
The key research question of this paper is to explore the major implications for corporate governance from the emergence of long-term stockholder and stakeholder value perspectives for the purpose of a corporation. The major implication for corporate governance is the significant opportunity for boards of directors to play a vital role in helping companies create long-term sustainable value. An initial step is to develop a clear understanding of the company's business strategy and how long-term value is created through innovation and deployment of resources. Boards of directors need to understand what really creates long-term value in their companies and then make sure their companies develop ways to measure and manage such value in order to be able to "govern like owners" and fulfill their fiduciary roles. To facilitate this fiduciary role, McKinsey & Company's Corporate Horizon Index with its five key indicators, investment, earnings quality, margin growth, quarterly management, and earnings-per-share growth, and their related hypotheses and measurement approaches can be used as a roadmap.
Keywords: Long-Term Stakeholder Value, Corporate Governance
Authors' individual contribution: Conceptualization – H.G.; Methodology – H.G.; Resources – M.C.; Writing – Original Draft – H.G.; Writing – Review & Editing – M.C. and T.X.; Visualization – T.X.; Funding Acquisition – M.C.
Declaration of conflicting interests: The Authors declare that there is no conflict of interest.
JEL Classification: G3, G30
Received: 12.12.2019
Accepted: 15.05.2020
Published online: 18.05.2020
How to cite this paper: Grove, H., Clouse, M., & Xu, T. (2020). Long-term stockholder and stakeholder value and corporate governance implications. Corporate Law & Governance Review, 2(1), 18-26. https://doi.org/10.22495/clgrv2i1p2