Corporate Governance and Organizational Behavior Review: a call for papers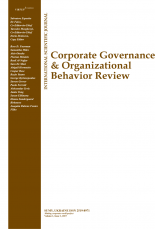 The editorial team of the international peer-reviewed journal Corporate Governance and Organizational Behavior Review announces a call for papers for the 2017 issue of the journal.
The deadline for submissions is November 1, 2017.
We encourage empirical and theoreticsl psubmissions in the following areas:
Agency theory
Transaction costs theory
Property rights theory
Organizational behavior
Human resource management policies
Job performance and satisfaction
Reward systems
Organizational leadership
Cultural components of organizations
The roles of individuals and groups in organizations
Organizational structures and external environment
The boundaries of the firm
Contracts between and within firms
Managerial roles
Economic theories of organization
For instructions for the authors please visit this page.
Papers must be written in English. Submit a paper to the co-editor by e-mail: mozghovyi[at]virtusinterpress.org