New book has been released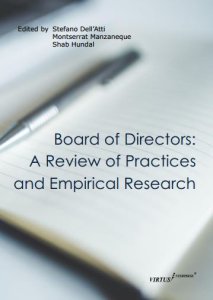 Virtus Interpress is glad to announce that the book "Board of Directors: A Review of Practices and Empirical Research" edited by Stefano Dell'Atti, Montserrat Manzaneque, and Shab Hundal, has been published.
The book "Board of Directors: A Review of Practices and Empirical Research" is a collection of studies, which attempt to fill in several research gaps existing in the extant literature. It is organized into ten chapters. Scholars contributed to this book, provide insights into the different aspects of the issue of the board of directors' impact.
Specifically, Chapter 1 contributes to the discourse on the board of directors' role in voluntary disclosure practices in developing countries. Chapter 2 addresses two interesting themes on board diversity and earnings management. Chapter 3 investigates whether or not family ownership and management affect profit variability and sustainability. The impact of board characteristics and firm-specific features on CRD are examined in Chapter 4. The authors of Chapter 5 argue that the impact of busyness directors on performance is related to the nature and intensity of the multiple directorships. Chapter 6 deals with Malaysian specific board characteristics and their relationship with firm performance. Chapter 7 analyses the relationship between remuneration received by members of the board and firm performance of listed companies in Spain. Chapter 8 addresses the issue of subsidiary boards. The characteristics of board members in the field of higher education are studied in Chapter 9. Finally, Chapter 10 presents the best practices that guide the structural design of role responsibilities and dictate policy decisions for separating the chairman and the CEO role.
You can preview and order the book here.