New feedback from the authors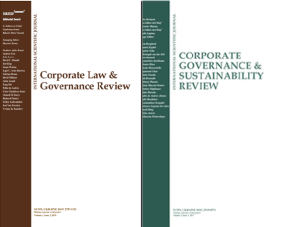 Publishing House "Virtus Interpress" continues to implement its transparency policy in terms of communication with the key stakeholders – authors. In this regard, we are glad to publish new feedback of the authors who published their papers in the journals Corporate Law & Governance Review and Corporate Governance and Sustainability Review.
Khaled Otman, Department of Accounting, Faculty of Economics, University of Benghazi, Libya: "It was my first experience in publishing in Corporate Law and Governance Review journal. I really appreciate highly organized instructions for publication and high expertise of reviewers. Robust review was helpful to make my manuscript more scholarly and internationally appealing. The comments and recommendations of the reviewers and editors were very constructive. I congratulate the editor and assistant editor of Journal for the editing standards and professionalism. The publication process from submission to final publication is fast. I am very satisfied with the experience of publication".
Elisabete Vieira, Researcher at GOVCOPP Unit Research, Lecturer in ISCA-UA and DEGEIT, University of Aveiro, Portugal: "It was a pleasure to cooperate with the journal "Corporate Law and Governance Review", through the publication of a paper. The communication with the managing editor of the journal was very fluent, direct, and easy to establish. The reviewing process was done in a reasonable time and the process was fluent. Finally, the reviewer's report content was very fruitful, with comments and suggestions which, undoubtedly, improved the final quality of the article".
Shirley Mo-Ching Yeung, Associate Professor, Head of School of Business / Director of Centre for Business/Social Sustainability and Innovations (BSSI), Gratia Christian College, UNPRME Advanced Institute; Associate Vice President of UNESCO HK Association, Hong Kong: "I deeply appreciate the kind efforts of Virtus Intrepress for my book publication (2020) and journal paper publication since 2015. And we co-organised an international conference on corporate governance and sustainable development (2017) in Hong Kong with impacts. Having shared vision and on-going collaborations further strengthen our sustainable relationship to bring insights to our readers and to our journey of wisdom. Furthermore, the themes of published articles in journals reflect the contemporary issues of the business world from economic and social perspectives. I am very proud to be a scholar and member of Virtus Global Center for Corporate Governance".
Hlupeko Dube, Lecturer, Department of Banking and Finance, Great Zimbabwe University, Zimbabwe: "The cooperation was highly appreciated. The editors were able to respond to all my communications without delay. The staff of Virtus Interpress was very helpful in making suggestions".
More comments are available at the following pages of the journals Corporate Law & Governance Review and Corporate Governance and Sustainability Review.