New issue of CGOBR has been published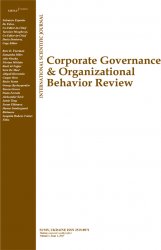 We are pleased to present a new issue of the Corporate Governance and Organizational Behavior Review of 2019.
The current issue of the journal focuses on the wide range of research topics, including various aspects of corporate governance, organizational leadership and human resources.
The issue starts with the study of Enock Jengre and Stephen D. Kpinpuo who investigate the factors that influence youth participation in local level governance in Ghana, a developing country. Their research reveals that the youth is more skillful in the use of technology and other strategic interventions to help address local, national, and global issues.
The study of Viwe Mrwebi and Yongama Cici explores the issue of innovative leadership in the financial sector and opts to use a case of a bank in South Africa.
Grace Oluwafunmilayo Obalade and Kayode Kingsley Arogundade study an effect of ethical climate on deviant behavior among employees in the educational institutions. Based on the test of the hypothesis, the study found that deviant behavior among employees of selected public and private universities can be significantly determined by ethical climate factors.
In their study Sandra Damijan and Jože P. Damijan highlight how the incorrect practice of corporate governance is usually linked to small shareholders and results in sub-optimal company performance.
The research of Ali R. Almutairi and Majdi A. Quttainah is focused on the development of internal and external corporate governance mechanisms.
The issue ends with a book review authored by Hanne S. Birkmose who shortly outlines the fundamental questions researched in the book, pays attention to its strong sides and issues that will be, by the reviewer's point of view, most interesting for the reader and focuses on the contribution of this book to the ongoing discussion on key questions relating to corporate ownership and control.
Corporate Governance and Organizational Behavior Review is published two times a year using a rolling model. You can send your submission to the managing editor at d.chorna@virtusinterpress.org. For instructions for authors please visit this page.