New issue of the Corporate Ownership and Control journal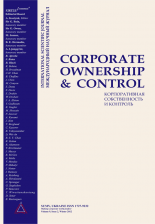 The recent issue of the journal Corporate Ownership and Control is devoted to the issues of board diversity, board size and performance, gender diversity, corporate social responsibility, mergers and acquisitions, firm profitability, earnings management, ownership structure, executive compensation, audit quality, accounting conservatism, business and financial risk, etc. More detailed issues are given below.
Hadeel Yaseen, Asma'a Al-Amarneh, Majd Iskandrani examine the impact of the board diversity on firms' corporate social responsibility (CSR) performance. Using a sample of 13 Jordanian commercial banks listed at Amman Stock Exchange (ASE) during the period 2005-2014, the study finds that board diversity measures, namely: board size, gender, age, education; nationality and independence are positively associated with CSR performance. At the same time, the existence of institutions' representatives was found to be negatively affecting the social participation of banks.
Daniel Duarte and Victor Barros aim to understand the change in corporate tax avoidance of acquirer firms following M&A deals. Several M&A features were tested in a sample which covers 391 European deals announced between 2005 and 2014. Overall, results suggest that there is no evidence of changes in acquirer's ETR following M&As. However, evidence was found of a decrease in acquirer's ETR of about 6.7% when the target firms report negative pre-tax income before the deal, and of 2.6% for domestic M&A. The decrease is increased to 7.9% if these characteristics are not mutually exclusive. Furthermore, it was found that acquirer's ETR decreases with profitability, which is more pronounced in the presence of M&A deals.
Domenico Campa explores the luxury sector as one of the most significant segments of the economy. It is increasingly attracting the interest of investors given the high margins and growth that companies in this sector exhibit. What is the "secret" of this outstanding performance? Extant literature shows that firm-level strategies, i.e. marketing policies, supply-chain management, R&D investments, etc. are the keys to luxury company success. However, it neglected the investigation of ownership structure, in the context of the agency theory, as another determinant of company performance. This is an important gap since evidence indicates that ownership structure affects features that are crucial to the success of luxury firms. Accordingly, this paper uses a large panel dataset of luxury companies (1,153 unique firms and 8,253 firm-year observations) located in the European continent, OLS multivariate regression models with robust econometric features as well as a robustness test that controls for endogeneity and explores these firms from an agency theory perspective. It finds that luxury entities with higher ownership concentration perform better than the others.
Umesh S. Mahtani examines the impact of increased regulatory requirements introduced in India for disclosure of RPTs by listed companies and the usage pattern of RPTs by companies which are part of a Group, as compared to those of standalone companies. Analysis of RPTs reported by 78 non-financial companies (part of the Bombay Stock Exchange Index 100) shows an increasing trend for RPTs reported for the period 2013-15, as compared to 2009-12. This trend is an indication that the regulatory requirements in India through the new Companies Act 2013, is proving to be effective in achieving its objectives. Such regulations passed to improve transparency in financial reporting in India will also act as a deterrent to companies, who may be intending to misuse these transactions in the future.
Ferihane Zaraa Boubaker investigates the short- and long-term relationship between the shareholder structure (family, institutional, managerial ownership) and stock market performance of acquiring firms. To explore this issue, we use a sample of 84 acquisitions undertaken by French firms operating in the real estate and financial sectors over the period 2008-2012. To compute short-term stock performance we used the standard event study methodology while we estimated the CAR and BHAR to study long horizon up to 36 months. The results show a curvilinear relationship between the manager's ownership and stock market performance. We provide evidence that increasing managerial ownership up to 16% has a negative impact on a firm performance after which it becomes positive. Moreover, the separation between ownership and control does not seem to affect the performance of initiators firms due to a lack of significance of the coefficients suggesting the absence of expropriation of minority shareholders. Our research tried to fill the gap in the existing literature by studying concurrently the impact of ownership structure variables on the short as on the long post-merger performance.
Joy Elly Tulung and Dendi Ramdani try to find the link between board independence, board size and BPD (regional development bank) performance for describing the corporate governance in regional development bank. The sample of firms consists all 26's BPD in Indonesia in the period 2010-2014; we take secondary data from the annual report of each BPD, total 203 top executives who are members of the boards of all BPD in Indonesia. The results are the influence of the board independence and board size on the BPD performance. The sample employed all the members of the boards of BPD in Indonesia giving us a confidence in generalization our findings. The statistical method used to test the hypotheses is OLS regression. This method was applied to measure the relationship between board independence, board size and BPD performance. The results suggested that there is a positive relationship between board independence, board size and BPD performance.
Mohammad M. Alhadab investigates the relationship between executive compensation, audit quality, and accrual and real earnings management in Jordan. While prior literature focuses on examining the impact of audit quality on accrual earnings management in Jordan, this study contributes to the literature by investigating the impact of executive compensation on real earnings management activities in Jordan. Further, this study contributes to the literature by investigating the impact of audit quality on real earnings management. By examining a Jordanian sample of 445 firm-year observations over the period from 2000 to 2011, this study presents new evidence that executive compensation is positively associated with accrual earnings management, suggesting that managers engage in accrual earnings management to increase reported earnings and, therefore, increase their pay-performance compensation. Further, the results show that managers who engaged in a higher level of real earnings management (via sales-based manipulation) received a lower level of compensation, suggesting that managers in Jordan are punished for the use of real activities. In terms of audit quality, the results show no evidence that audit quality is associated with accrual and real earnings management in Jordan.
Magdi El-Bannany explores the determinants of conditional accounting conservatism for banks in Egypt and the UAE over the period 2008-2013. Multiple regression techniques are used to investigate the relationship between conditional accounting conservatism as a dependent variable and the independent variables represented by international financial reporting standards (IFRS), Global financial crisis, level of market competition, bank size and bank age. The results revealed that IFRS, Global financial crisis, level of market competition, have significant influence but bank size and bank age have no significant influence on conditional accounting conservatism for banks in Egypt and the UAE. These results are expected to be beneficial for the banking and accounting regulators to recognize the factors which are important in explaining the reasons for the practice of conditional accounting conservatism.
Francesco Napoli examines problems of strategic change and innovation in Italian firms which develop cooperative relationships with other firms. The inter-firm network phenomenon has taken on such importance in Italy that, in 2009, the State issued a law (Decreto Legge 5/2009) specifically to regulate the concluding of cooperative contracts for the formation of inter-firm networks. This law offers firms that wish to keep their groups of owners separate the possibility to establish a multiplicity of inter-firm relationships through the signing of just one single contract, named "Contratto di rete", which, in this paper, we will refer to as a "network contract". For historical reasons, all firms in Italy, even those quoted on the stock market (Milan Stock Exchange), exhibit a high level of ownership concentration. The largest class of blockholders is that of families who are active in the family firm. As regards the size of firms that maintain cooperative relationships, data on network contracts show that 95% of the firms stipulating these contracts are small- or medium-sized enterprises (SMEs), so categorised because they have fewer than 50 employees. Through strategic alliances and collaborative relationships, Italian family firms have been able to develop business ideas that, as a consequence of the companies' small dimensions, would have been impossible otherwise. On the basis of this premise, we considered it convenient to analyse small- or medium-sized family firms that developed relationships of cooperation regulated by network contracts in the period between 1/1/2013 and 31/12/2016.
Vu Quang Trinh, Huyen Thu Thi Pham, Thinh Ngoc Pham and Giang Thuy Nguyen study the effects of female leadership, at both board-level and individual-level, on the corporate value of UK FTSE100 stocks. United Kingdom is a valuable sample for this research as the UK governance sets the goal that at least a third of UK boardroom positions should be held by women by the end of 2020. Using the GMM approach with a dataset of 96 publicly firms from 2006 to 2016; our analysis reveals strong evidence that the existence of female directors on board is positively associated with firm value (Tobin' Q). Testing for the female director positions, we interestingly found the competing results: the relation between the female chairman and firm value is significantly positive whilst there exists an adverse link between female CEO and firm value. The findings imply a significant effect of quota laws for gender diversity of boards of directors and female directors' positions on UK corporate market value.
Iordanis M. Eleftheriadis focuses on the investigation of the concept of the corporate trade-off hypothesis (CTH), which suggests that firms adjust business risk and financial leverage to obtain the desirable amount of total systematic risk. The empirical tests were carried on a sample of 319 firms from the food and beverage manufacturing sector that covered the period 2008-2016. Prior empirical research has examined the relationship between business and financial leverage using market data. The aim of this research was to explore this relationship using accounting data. The use of accounting data made it possible to include unlisted companies in our survey. The results show that there is an inverse relationship between the variables of operating beta and mean debt ratio, which measure business risk and financial leverage respectively. Consequently, the empirical findings support the hypothesis that the corporate trade-off hypothesis is operative, for the cluster of food and beverage manufacturing companies.
We hope that you will enjoy reading the journal and in future we will receive new papers, outlining the most important issues and best practices of corporate governance!