New issue of the Corporate Board: Role, Duties and Composition journal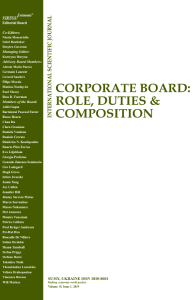 The editorial team of Virtus Interpress is happy to release the second issue of the journal Corporate Board: Role, Duties and Composition in 2020 (volume 16, issue 2). Researchers from the USA, Greece, Portugal, Saudi Arabia, and Ghana have contributed to this issue.
The published papers explore such issues as board director benchmarking information, board gender, stability and risk-taking, board structure, board size, firm performance, corporate personality, corporate veil, innovation governance, etc.
The full issue of the journal is available at the following link.
Hugh Grove, Mac Clouse and Tracy Xu explore how individual companies and their boards of directors may use the board director benchmarking information compiled in the Conference Board Report to evaluate their corporate governance practices.
Michael Adusei investigates the effects of female directors' presence on risk-taking using a sample of 401 microfinance institutions from 64 countries, analysing also whether the effect is sensitive to the outreach performance
Gerasimos G. Rompotis aims to examine the relationship between the characteristics of the board (board's size, the presence of women and non-executive members on the board, CEO duality) and the performance and risk of a firm using data from 45 Greek listed companies over the period 2015-2018.
Badar Mohammed Almeajel Alanazi compares current corporate veil practices in three jurisdictions: the UK, the US, and Australia in order to outline the advantages and limitations of the different courts' approaches and to determine the best practices in terms of veil piercing.
Lastly, Pedro B. Água and Anacleto Correira, emphasize the importance of innovation on the board's agenda and the urgency for proactive innovation governance for organizational sustainability strengthening and develop a pragmatic and deployable model backed by logical cause and effect.
We hope that reading this issue will be pleasant and informative for all the scholars focused on board of directors issues!