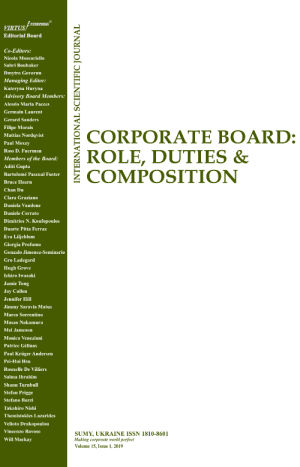 Board structure, firm performance and risk: Recent evidence from Greece
Download This Article
Gerasimos G. Rompotis

This work is licensed under a Creative Commons Attribution 4.0 International License.
Abstract
This paper examines the relationship between the characteristics of the board and the performance and risk of a firm using data from forty-five Greek listed companies over the period 2015-2018. The analysis considers various alternative performance measures, both accounting-based and stock-based, as well as two measures for risk. The board characteristics considered are the size of the board, the number of female members on the board, the number of non-executive members on the board, and the duality regarding the roles of the chief executive officer (CEO) and the president of the board. As far as the board size is concerned, the results show no significant impact on performance. This finding is in line with past studies on Greek companies. On the contrary, the presence of women on the board seems to be negatively related to performance. The same seems to be the case for the non-executive members, especially when the stock returns are taken into consideration. Finally, when it comes to duality, the results indicate the occupation of the president and CEO roles by the same person exerts a positive impact on firm performance decreasing, at the same time, its risk. This study contributes to the literature in various ways. First, it uses the most recent data from the Greek market. Furthermore, from a political point of view, the study covers a very interesting period, given that during 2015-2018 Greece had for a first time a left-wing government, a factor that could possibly affect the conduction of business in Greece. In addition, the finding that the duality in the roles of CEO and president can lower the risk of a firm is a new finding. Finally, in general, the results confirm the conclusions of the previous studies on Greek companies about the poor impact of the board on firm performance.
Keywords: Board of Directors, Size, Female Members, Non-Executive Members, Performance, Risk
Authors' individual contributions: The Author is responsible for all the contributions to the paper according to CRediT (Contributor Roles Taxonomy) standards.
Declaration of conflicting interests: The Author declares that there is no conflict of interest.
JEL Classification: G32, G34, L25
Received: 06.05.2020
Accepted: 02.07.2020
Published online: 03.07.2020
How to cite this paper: Rompotis, G. G. (2020). Board structure, firm performance and risk: Recent evidence from Greece. Corporate Board: Role, Duties and Composition, 16(2), 35-46. https://doi.org/10.22495/cbv16i2art3