New issue of the Corporate Board: Role, Duties and Composition journal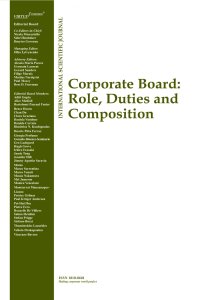 The editorial team of Virtus Interpress is pleased to present a new issue (volume 16, issue 3) of the Corporate Board: Role, Duties and Composition journal. Scholars from countries of different continents of the world, such as Canada, Cyprus, the USA, Brazil, China, have contributed to this issue of the journal.
The papers in this new issue investigate of a wide variety of topics in the corporate governance and board of directors practice sphere, in particular, board composition, board roles, business-government relations, government officials, outside directors, strategic positioning, risk governance, public administration restructuring, financial crisis, audit committee guidance, institutional investors, pension funds, corporate governance reforms, firm performance, etc.
The full issue of the journal is available at the following link.
The issue starts with the paper of Mark Fuller and Chris Bart who, directly surveying 82 Canadian board member, examined two key issues situated at the intersection of corporate governance and corporate political activity literature: 1) whether the presence of ex-politicians or former government officials on a corporate board provides a competitive advantage for the firm; and 2) whether the presence of these outside directors on the board of directors is perceived as desirable by their fellow directors.
Vyttas Vasileios aimed to evaluate the implementation and results of the performance and risk measurement model in the Greek public administration during the present financial crisis. For this purpose, 168 questionnaires were sent to managers of public services of the Thessaloniki Prefecture and neighboring prefectures
Hugh Grove, Mac Clouse, and Tracy Xu in their research approached to answer the question how to provide guidance to board of directors' audit committees in order to strengthen corporate governance. This stusy speaks to the growing research attention to the audit function and maps out the well-developed strategies to advance the audit quality.
Luiz Philippe Antoun de Almeida and Ricardo Pereira Câmara Leal investigated two high profile activism cases to assess these conjectures and address two very large and widely held Brazilian companies, which had good corporate governance indicators and were not state-controlled or closely regulated, that is two largest Brazilian pension funds, both sponsored by state-owned companies.
Finally, Nyande Fania, Chen Yan, Joseph B. Kuyon, Brima Sesay, and Ursule Yvanna Otek Ntsama, by collecting data for 392 listed companies in South Africa for the period of 2006-2018, examined the effect of board structural characteristics to achieve firm performance via the mediating effects of board roles (frequency of board meetings and board size) and the intervening role of corporate governance code.
The papers published in this issue of the journal provide a solid contribution to the previous literature and we hope that reading this issue will be interesting and informative for you!