New issue of the Corporate & Business Strategy Review journal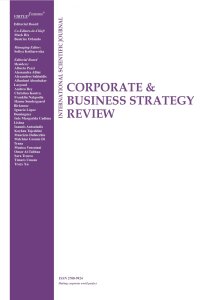 The editorial team of Virtus Interpress is glad to announce that the first issue of the journal Corporate & Business Strategy Review in 2021 has been published.
The articles presented in this issue are devoted to such topics as entrepreneurship, entrepreneurial intention, working experience, theory of planned behavior, cointegration, granger causality, gold market, organisational leadership, due diligence, human capital investment and management, human resource strategies, strategic management, digitalization, growth and de-growth, sustainability, theory of the firm, reacquisition, mergers and acquisitions, information asymmetry, efficient market hypothesis, etc.
The full issue of the journal is available at the following link.
In the first article of this issue, Ajay Sidana, Neeru Sidana, and Rohit Sood investigate how global gold price trends impact domestic gold prices and domestic gold price trends contemplate in international gold markets (specifically a comparison between the US and India gold markets).
Alexandros G. Sahinidis, Panagiota I. Xanthopoulou, Panagiotis A. Tsaknis, and Evangelos E. Vassiliou aim to identify the factors that determine entrepreneurial intention and examine the effects of age and prior working experience on the formation of entrepreneurial intention.
Alan Fish and Xianglin Ma discuss the due diligence in reframing organisational leadership through an investment approach to human capital and mindset with the purpose to enhance relations between organisations, their multistakeholders, and ecosystems.
Dodo zu Knyphausen-Aufseß and Tilman Santarius analyse the strategic management discipline with an aim to reintroduce the lost normative perspective and to provide a guideline for future theorizing about business firms as well as guidelines for practice, focusing on (de-) growth, sustainability, and digitalization issues.
Finally, Benjamin Dietz and Dodo zu Knyphausen-Aufseß shed light on the topic of reaquisitions, which are a type of mergers and acquisitions in which previously divested company parts are reacquired by parent companies, and show that reacquisitions are evaluated significantly more negatively by investors than regular mergers and acquisitions.
We hope that the readers of the journal of Corporate & Business Strategy Review will find this issue worth reading and interesting.