New issue of the Corporate Ownership and Control journal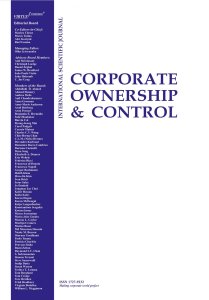 The editorial team of Virtus Interpress is happy to present the first issue of volume 20 of the Corporate Ownership and Control journal. The issue is truly international as it is represented by scholars from Italy, Germany, the UK, Finland, the USA, New Zealand, Australia, Sweden, China, Egypt, Jordan, Sri Lanka, Morocco, Tunisia, and other counties.
The papers provide a wide range of investigated topics, among others, corporate governance, ownership structure, earnings management, audit committees, audit quality, internal auditing, risks, management accountants, business partnering, state-owned banks, bank risk-taking behaviour, financial reporting, board of directors, CEO duality, board independence, board size, executive remuneration, discretionary accruals, ESG performance, non-financial reporting, sustainability, corporate social responsibility, accounting standards, financial statements, financial performance, financial crisis, stock price prediction, mergers and acquisitions, enterprise performance, accountability, non-governmental organizations, institutional shareholders, e-commerce, blockchain, competitive intelligence, SMEs, human resources, job market, loan scams, green supply chain management, etc.
The full issue of the journal is available at the following link .
Kwok Yip Cheung and Ismail Adelopo examine the relationships between audit committee characteristics and its oversight effectiveness primarily measured as accrual and real earnings management in Hong Kong after the Asian financial crisis in 2008.
Enrico Sorano, Guido Giovando, Alessandro Rizzi, and Alberto Sardi aim to identify the evolutionary trend of the provision of risk in national public healthcare companies.
Robert Rieg, Patrick Ulrich, and Carmen Finckh based on a quantitative empirical study of a large German high-tech firm in 2019, whose top management decided to implement the business partner role, discuss the roles of management accountants.
Zahir Uddin Ahmed, Shahanaz Begum, Kazi Saidul Islam, and Yousuf Kamal attempt to unfold the underlying reasons for corporate governance failures in the banking sector in a developing country.
Shab Hundal, Anne Eskola, and Maroua Troudi analyze the effects of corporate boards of directors' characteristics, executive remuneration, and several corporate governance characteristics of the manufacturing firms in three Nordic nations on the quality of financial information, measured by total discretionary accruals.
Zaina Abdin, Rana Albahsh, and Mohammad F. Al-Anaswah explore the applications of green supply chain management in 5-star hotel restaurants and quick-service restaurants in Jordan.
Marc Eulerich, Annika Bonrath, and Vanessa Isabell Lopez Kasper, using survey data of 107 internal auditors, provide empirical evidence about internal auditor's role in environmental, social, and governance disclosure and assurance.
Nagendrakumar Nagalingam, Naduni Madhavika, and Yogendran Umashangar attempt to find whether the inclusion of human capital in financial statements has an impact on financial performance and if so, which valuation model is a more appropriate, historical cost or present value.
Fady Nabeel Ismaeel and Mohamed Moustafa Soliman evaluate the effect of corporate governance on the organizational performance of domestic small and medium-sized enterprises in the industrial, construction, distribution, and mining sectors listed on the Nilex stock market in Egypt.
Anjali Munde and Nandita Mishra utilize a study with data on the stock prices of the top small and medium-sized enterprises in the National Stock Exchange of India to estimate the functioning of the technique executed.
Raghavendra Chandrika, Rampilla Mahesh, and Isha Gupta adopt the theories-contexts-characters-methods protocol to review 191 empirical articles and present the consolidated findings and set future research agendas in cross-border mergers and acquisitions activities.
Alhassan Musah, Bismark Okyere, Deodat Emilson Adenutsi, Christian Thywill Dodor, and Makafui David Agboado study the effect of audit committee size, audit committee independence and audit quality on bank risk-taking behaviour in Ghana.
Arunabh Choudhury, Mafruza Sultana, and Pooja Gupta aim to assay the effect of corporate governance parameters on the accomplishment of a sample of S&P CNX Nifty 50 Index enterprises, excluding banking and financial services.
Ikenna Elias Asogwa, Maria Estela Varua, and Emmanuel Senior Tenakwah investigate sustainability reporting in non-governmental organizations and find that sustainability reporting is a key driver for organisational learning and change in NGOs.
Minati Sahoo, Kailash B. L. Srivastava, Neeraj Gupta, Sachin Kumar Mittal, Priti Bakhshi, and Tarun Agarwal focus on the relationship between ownership structure and firm performance on the basis of the data of 113 firms with 565 observations from 2013 to 2017 using the fixed panel data estimation approach.
Jalal Armache, Said Ladki, and Gladys Daher Armache observe the decision of international and non-international students when it comes to remote work preference at a southern private American university and the implications of those decisions on the US educational system, job market, and board of directors' strategic plans.
Tobias Wulfert and Erik Karger conduct an analysis of 7,463 platform-related papers in the context of e-commerce, identify a continuous development of platform research in e-commerce, and outline four clusters in platform research.
Sabrina Pisano, Gabriella D'Amore, Loris Landriani, and Luigi Lepore evaluate the role of board independence on environmental, social and governance performance and the moderating role of a corporate social responsibility committee on the relationship between these variables.
Finally, Zohor Kettani and Abdulkader Aljandali provide empirical evidence on how managers perceive competitive intelligence and the state of its practices in Moroccan small- and medium-sized enterprises.
We are grateful to all the scholars who have contributed to this issue and hope that readers will enjoy reading papers of this issue and exploring the results of these studies!