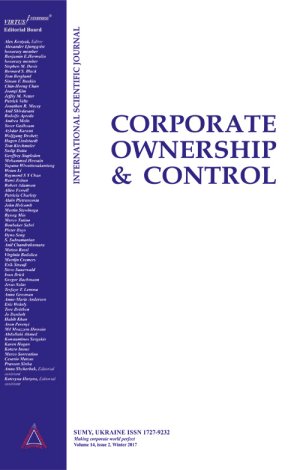 Loan scams and corporate governance failure in the state-owned banks of a developing country
Download This Article
Zahir Uddin Ahmed, Shahanaz Begum, Kazi Saidul Islam
, Yousuf Kamal

This work is licensed under a Creative Commons Attribution 4.0 International License.
Abstract
The corporate world has witnessed significant corporate governance failures during the last two decades. Although most of these collapses happened in the context of developed countries, the cases within developing counties were not negligible. Yet, there is limited research on corporate governance failures that occurred in developing countries. In this study, we attempted to unfold the underlying reasons for corporate governance failures in the banking sector in a developing country. We collected data from media reports published in local and international media about the loan scandals that happened in Bangladesh between 2008 and 2020. We analyzed over ninety-four media reports to understand the significant factors contributing to such corporate governance failures. We applied the "control fraud theory" to interpret our findings. We have found that weak regulatory framework, political influence, lack of oversight by the corporate regulatory bodies, and personal collusion of bank personnel are the major factors that lead to corporate governance failures in Bangladesh. Our results suggest stern measures to be taken by the regulatory bodies to reduce loan scams and corporate governance failures in the future.
Keywords: Corporate Governance, Developing Country, Control Fraud Theory, Media Reports, Loan Scams, Bangladesh
Authors' individual contribution: Conceptualization — Z.U.A. and S.B.; Methodology — Z.U.A. and K.S.I.; Formal Analysis — Z.U.A., S.B., and Y.K.; Investigation — Z.U.A. and S.B.; Resources — Z.U.A., S.B., K.S.I., and Y.K.; Writing — Original Draft —S.B.; Writing — Review & Editing — Z.U.A. and Y.K.
Declaration of conflicting interests: The Authors declare that there is no conflict of interest.
JEL Classification: E50, G21, M41, M48, M49
Received: 11.09.2022
Accepted: 11.11.2022
Published online: 14.11.2022
How to cite this paper: Ahmed, Z. U., Begum, S., Islam, K. S., & Kamal, Y. (2022). Loan scams and corporate governance failure in the state-owned banks of a developing country. Corporate Ownership & Control, 20(1), 46–58. https://doi.org/10.22495/cocv20i1art4