New issue of the Corporate Ownership and Control journal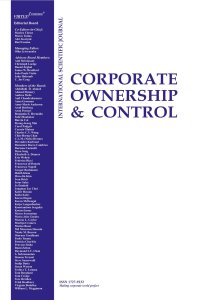 The editorial team of Virtus Interpress would like to announce that a new issue of the journal Corporate Ownership and Control (volume 20, issue 3) has been published. Scholars from the USA, Australia, Canada, Germany, Italy, the UK, Monaco, Egypt, Malaysia, Fiji, and other countries have contributed to this issue.
The new issue of the journal is devoted to the issues of corporate governance, shareholders, board of directors, CEO practices, executive compensation, ownership concentration, ownership structure, mergers and acquisitions, financial sustainability, financial performance, banking profitability, initial public offerings (IPO), performance measurement system, performance management, key performance indicators (KPIs), ESG performance and disclosure, firm value, SMEs, innovation, institutional investors, risk-taking, corporate risk, incomplete markets and contracts, public contracts, public private partnership, e-commerce, country branding, corporate social responsibility (CSR), intellectual capital, and other related issues.
The full issue of the journal is available at the following link .
Jing Zhao analyzed a hand-collected, unique dataset on chief executive officer employment contract details for S&P 500 companies throughout 1993–2005 and studied a substantial heterogeneity in contract provisions and their impact on acquirer risk-taking in mergers and acquisitions.
Biplob Chowdhury, Dinesh Gajurel, and Ibrahim Shaikh collected a sample of young Australian firms to document whether institutional pressures to adopt board independence and replace the founder, or original, pre-IPO insiders by Australian companies negatively impact post-IPO financial performance.
Karim Mamdouh Ahmed Salaheldin, Abdel-Kader Mohamed Abdel-Kader Ahmed Mubarak, and Mona Ibrahim Dakrory investigated the direct effect of country branding on competitive advantage, applying it to the commercial aviation industry in Egypt.
Farhana Begum, Kazi Saidul Islam, Sangida Akter Saroni, Muhammad Khalilur Rahman, Bibhuti Bhusan Sarker, and Normah Omar examined the profitability and financial sustainability of banks in Bangladesh before and during COVID-19.
Enrico Sorano, Paolo Pietro Biancone, Guido Giovando, and Alberto Sardi identified and applied a useful approach for performance measurement system design in a local government according to national legislation; for this, the context and regulation of an Italian municipality are investigated.
Mariastella Messina dealt with the question of how a learning process could favor the selection and management of projects to include in the portfolio, considering the relevance of strategic orientation.
Vishwa Hamendra Prasad, Nikleshwa Datt, and Vishal Sharma explored the impact of COVID-19 on small and medium enterprises in Fiji, which are at risk of crisis.
Giorgio Bertinetti and Guido Max Mantovani estimated the firm as a "nexus of stakeholders", each bearing return-to-risk expectations about the sharing of the corporate performance.
Tobias Wulfert and Benjamin Dennhardt, based upon an established mathematical model for two-sided markets considering utility gains from indirect network effects and costs, evaluated and demonstrated generic platform ignition strategies in e-commerce.
Mohammad F. Al-Anaswah and Rana Albahsh declared that there was a greater focus on corporate responsibility, transparency, disclosure practices, and risk management to enhance accountability and sought to provide a retrospective analysis of the emergence of corporate governance in business and economics.
Anjali Srivastava and Anand outlined how environmental, social, and governance (ESG) scores impact firm value in the presence of concentrated ownership, using a sample of 15,640 firm-year observations across 46 countries from 2011–2020.
Kamal Al-Bakri contributed to the literature by segmenting the G7 banks' governance practices into heterogenous groups and examining their impact on financial sustainability measures.
Enrico Sorano, Alessandro Rizzi, Guido Giovando, and Alberto Sardi defined an approach useful for establishing the economic congruity and community benefits for direct awards to in-house companies.
Massimo Cecchi highlighted the weaknesses of intellectual capital estimation models, constructing and empirically verifying a new model that has the same strengths as the value-added intellectual coefficient (VAIC) but not its weaknesses.
Finally, Carlo Bellavite Pellegrini, Rachele Camacci, Laura Pellegrini, and Andrea Roncella presented the interaction between systemic risk and corporate governance in European financial institutions.
We hope that you will enjoy reading this issue of our journal!