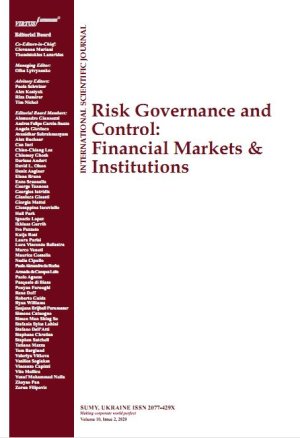 REGULATORY SUPPLY AND MARKET DEMAND OF RISK MANAGEMENT: MATCH OR CLASH?
Download This Article
Christoph Van der Elst
, Erik Vermeulen

This work is licensed under a Creative Commons Attribution-NonCommercial 4.0 International License.
Abstract
The paper raises questions as to whether the new risk governance requirements will be able to match the prerequisites for more balanced risk governance as part of the decision making process while fostering business entrepreneurship. Further, to comfort the market it will be necessary to report in accordance with market expectations adequate information about the financial and non-financial risks internal and external risks the companies is coping. Both questions will be addressed in this paper.
Keywords: Risk Management, Supply, Internal Control, Requirement, Monitoring, Disclosure, Board of Directors, Corporate Law, TIAA-CREF
How to cite this paper: Van der Elst, C., & Vermeulen, E. (2011). Regulatory supply and market demand of risk management: Match or clash? Risk Governance and Control: Financial Markets & Institutions, 1(1), 100-111. https://doi.org/10.22495/rgcv1i1art8