Updated Advisory Board of the Corporate Ownership and Control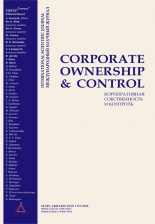 Dear colleagues!
We are happy to introduce you the new members of Advisory Board of Corporate Ownership and Control journal. They are famous and very experienced scholars who have research interests in corporate governance and related fields, and are experienced in publishing papers in reputable journals.
These are:
Daniel Zéghal, Professor, Telfer School of Management, University of Ottawa, Canada;
Karen Hogan, Professor and Chair, Department of Finance, Saint Joseph's University, USA;
Christoph Luetge, Peter Loescher Professor and Chair of Business Ethics, Technical University of Munich, Germany;
This group of Advisory Board members provides the strong geographical diversity that will be followed with a strong contribution of the most recent trends in scholarly research and publishing. All these will be beneficial for all our international academic network.
Visit this page to take a look at the complete editorial board of the journal.