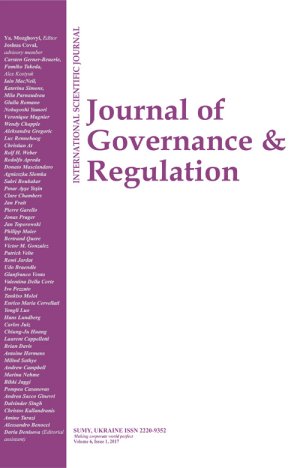 A new tool to gather debt capital: Green bond. Risks and opportunities for firms and investors
Download This Article
Massimo Mariani, Francesco Grimaldi
, Alessandra Caragnano

This work is licensed under a Creative Commons Attribution 4.0 International License.
Abstract
In the last few years, there has been growing attention by enterprises and investors concerning the adoption and implementation of strategies and decisions characterised by a strong social and environmental impact. 2018 represented a fundamental year for renegotiations on the climate, in fact, following the COP 21, the aim was of both producing a "Rulebook" in order to carry out all the details received from the Paris agreement and a "Talanoa Dialogue" aiming at informing the parties of all the carried-out progresses. In this scenario, green bonds represent the financial tool that better meets the enterprises need to collect capital as well as the possibility of conveying the latter through strict obligations towards high environmental impact initiatives. Considering the high potential in using this tool, this work aims at investigating, in a double perspective, from both the issuing companies and the investors' point of view, risks and opportunities. In particular, the possibility not only to diversify the financial sources but also to carry out a strategic plan to guarantee value creation in the long term (LTVC) and to preserve the environment. The most important goal of this work is to supply a reference framework conveying the main aspects to consider and evaluate.
Keywords: Climate Change, Debt Capital Markets, Green Bonds, Green Projects, Long Term Orientation
Authors' individual contribution: Conceptualization – M.M., F.G., and A.C; Methodology – F.G. and A.C; Writing – Original Draft – M.M., F.G., and A.C; Writing – Review & Editing – M.M., F.G., and A.C; Visualization – M.M., F.G., and A.C; Project Administration – M.M. and F.G.; Supervision – M.M. and F.G.
JEL Classification: M14, O16, Q01, Q50
Received: 12.10.2019
Accepted: 28.12.2019
Published online: 30.12.2019
How to cite this paper: Mariani, M., Grimaldi, F., & Caragnano, A. (2019). A new tool to gather debt capital: Green bond. Risks and opportunities for firms and investors. Journal of Governance & Regulation, 8(4), 82-90. https://doi.org/10.22495/jgrv8i4art7